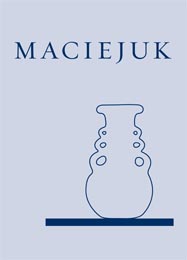 Article Number: 3924
Soft Cover,
English
, Staple Binding, 14 Pages, 2011, Morava Publishing House 2011
Wazony
availability unknown, if interested please write an email
Robert Maciejuk is a painter. As a painter, he is sensitive to the colour and texture of paint. (german/italian/polish/english...)
He is a painter with a rare sense of humour and, an even greater rarity, an awareness of his skill. Robert Maciejuk knows how to paint and it is his intuition which leads him to the subject of his painting. Still, Robert Maciejuk is no potter and in the world of ceramics he fumbles about in the dark, making the mistakes all beginners make. Yet it is, in fact, a series of ceramics and vases that appear to be the protagonists of a meticulously designed portfolio. Why ceramics, then? Is it really all about ceramics? The precise compositions made up of groups of vases invoke associations with the still-life oeuvre of masters from the Netherlands and Spain. The colours of the objects, the garish yellow background of a wall, the cold tiles and the earth-tone vases might have served as basic motifs for any of the Colourists or Capists. The form of a publication is the perfect framework for a series of photographs of such objects as what counts most for the artist is a memorable image captured on paper. After all, Robert Maciejuk is only, and as much as, a painter.