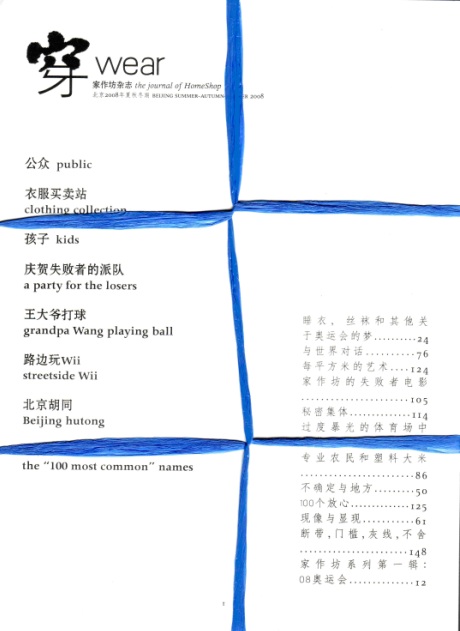 Article Number: 2919
Soft Cover,
English
, Thread Stiching, 168 Pages, 2008, , ISBN 978-300-0266-19-5
Wear Journal Number One
the journal of Homeshop
public clothing collection kids a party for losers grandpa Wang playing ball streetside Wii Beijing hutong the "100 most common" names
WEAR is the independently published journal of HomeShop, an artists' initiative located in one of the hutong alleyways in the centre of Beijing. An annual project, WEAR combines an artist book, theoretical reader and social research in printed form. The journal documents the public activities, discussions and interventions organised at HomeShop, also serving as a broader platform from which to gather contributions from artists, writers and the folks in the neighbourhood for a local dialogue and everyday reflection upon the contradictions and dynamism of a fast-changing China.
(Engl./Mandarin)