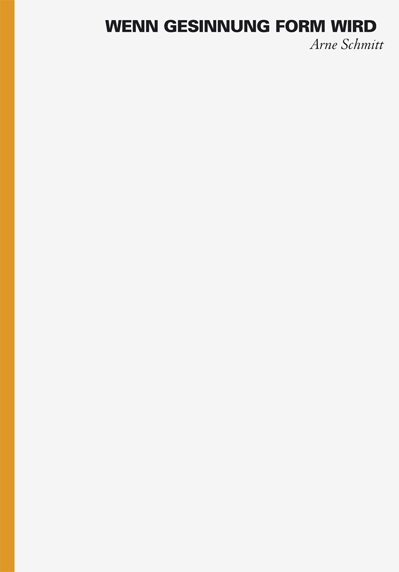 Article Number: 4684
Hard Cover,
German
, Staple Binding, 224 Pages, 2012,
Spector Books
, ISBN 978-3-940064-56-1
Wenn Gesinnung Form wird
€ 44.80
Arne Schmitt: Wenn Gesinnung Form wird. Eine Essaysammlung zur Nachkriegsarchitektur der BRD (deutsch)
Der Fotograf Arne Schmitt ist im Jahre 2010 mit seiner Kamera durch die alte Bundesrepublik – die westlichen Bundesländer – gefahren und hat jene Orte dokumentiert, die nach 1945 von Bomben zerstört waren und durch neue Bauten ersetzt wurden. Seine Schwarz-Weiß-Fotografien zeigen nüchtern den heutigen Zustand der architektonischen Entwürfe, die nach Kriegsende von einer Generation von Architekten gebaut wurde, die ihr Handwerkszeug bereits vor 1933 erlernt hatte und während der Zeit des Nationalsozialismus unter Schirmherrschaft des Generalinspekteurs Albert Speer ihre fachlichen Fähigkeiten in den Dienst des Staates stellten. Loyalität, Pragmatismus gepaart mit einer unpolitischen Haltung gegenüber den staatlichen Auftraggebern bestimmte ihre Arbeit. Als der Krieg beendet war, hatte sie schon die fertig ausgearbeiteten Pläne für die wiederherzustellenden Städte von Morgen in der Schublade. Die Zäsur, die viele Menschen nach 1945 durchlebten, ging an jener Architektengeneration vorbei. Sie bauten vom Nationalsozialismus in die Adenauer-Ära hinein. Sie hinterließen ihre sichtbaren Spuren: aufgelockerte Stadtlandschaften, Gebäude im modernen Stil, Verwaltungs-, Geschäfts- und Wohnhäuser mit zeitgemäßem Antlitz: unaufgeregt, funktional, leidenschaftslos. Man könnte auch sagen: kalt, ein Gefühl, das Alexander Mitscherlich in seinem Buch "Die Unwirtlichkeit unserer Städte" festhielt und damit eine öffentliche Diskussion über die in Beton gegossenen Hinterlassenschaften jener Architekten entfachte, bei denen Gesinnung Form geworden war. Arne Schmitt hat davon ein beeindruckendes fotografisches Zeugnis abgelegt, die Fotografien eröffnen den Blick auf die bundesdeutsche Nachkriegsmoderne und die widersprüchlichen geistigen Strömungen, die in ihr zusammengefunden haben.
In 2010 the photographer Arne Schmitt traveled with his camera through the western states of Germany that constituted West Germany before reunification and documented the places that were destroyed by bombs during the war and replaced after 1945. His black-and-white photographs objectively reveal the current state of architectural designs built after the war by a generation of architects who had learned their craft prior to 1933. Loyalty and pragmatism paired with an apolitical attitude toward state clients marked their work. When the war ended, they had already had finished plans in their desk drawers for the construction the cities of tomorrow. Arne Schmitt has produced an impressive photographic documentation of the legacies of this generation of architects. His photographs open up a new perspective on postwar modernism in West Germany and the conflicting intellectual currents that coexisted there.