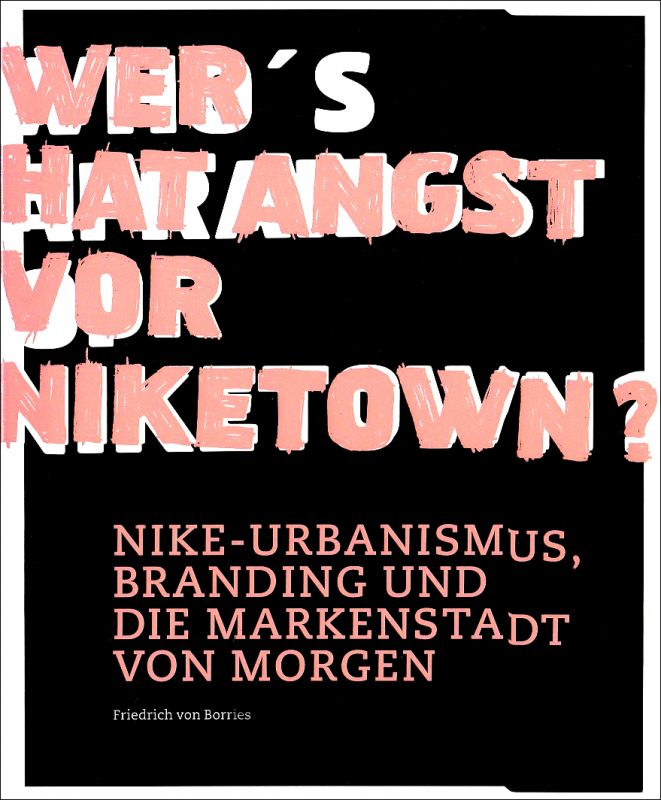 Wer hat Angst vor Niketown?
Nike-urbanismus, Branding und die Markenstadt von Morgen
availability unknown, if interested please write an email
Ein Buch über Nike's urbane Marketingstrategien und wie sie die Stadt verändern.
Wer hat Angst vor Niketown? zeigt auf, wie urbaner Raum durch Nike in eine neue Markenstadt verwandelt wird.
In seinen überzeugenden Analysen weiß Friedrich von Borries dies überraschend konkret vor Augen zu führen. Er verfährt nicht nur analytisch, sondern unternimmt auch spekulative Exkursionen in die Zukunft - gerade dadurch gewinnen seine detaillierten Annalysen der gegenwärtigen Marketingstrategien an Kraft.

Dr. Friedrich von Borries, geboren 1974, studierte Architektur and der Universität der Künste Berlin, der ISA St. Luc Bruxelles und an der Universität Karlsruhe (TH), wo er 2004 promovierte. 2001-2003 Lehrtätigkeit an der Technischen Universität Berlin, seit 2002 Lehrtätigkeit und wissenschaftliche Mitarbeit and der Stiftung Bauhaus Dessau. Gemeinsam mit Matthias Böttger leitet er raumtaktik - Agentur für räumliche Aufklarüng und Intervention in Berlin.
Sprache: Deutsch