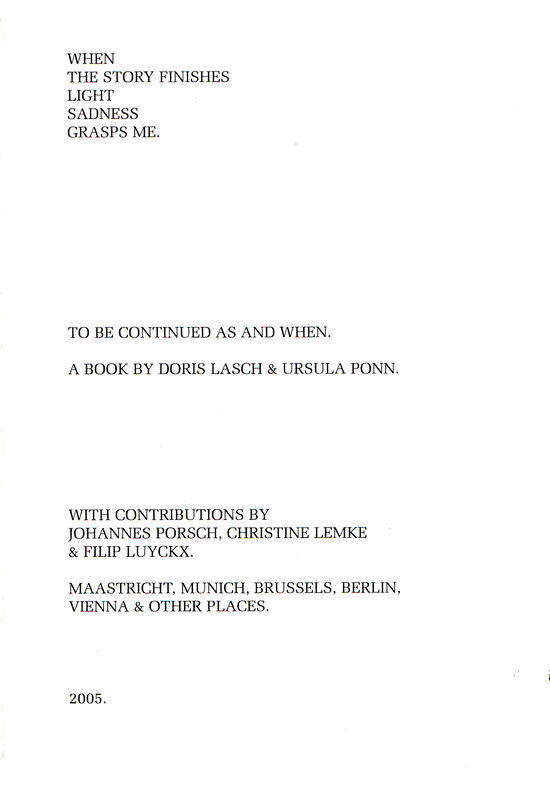 When the story finishes light sadness grasps me
availability unknown, if interested please write an email
Leafing through the artist's book by Doris Lasch and Ursula Ponn (Fine Art researchers 2003 – 2004), we move from neat and messy artists' studios, through old-fashioned interiors, to museum rooms and back again.
At times, the spaces are shown as full-page photographs of the original or replicated situation. At other times, they are displayed as images on open pages from various books juxtaposed on a flat surface. In a flash we recognise images on these pages which we saw earlier in the book. 'The three-dimensional spaces, the images thereof and our imaginary reconstructions run into each other unnoticed, and overlap each other', writes Filip Luyckx in the accompanying text.
Yet, the meaning of this book goes beyond the subjective processing of images alone. It also addresses the private and public context in which art can be found: the studio and the museum, the place of creation and presentation. According to Luyckx, 'images of non-public moments of appearance of art, such as the preparatory activities in or a view of deserted studios and museum rooms, contribute to the imagery of works of art to a large degree'. Quite intriguingly, Doris Lasch and Ursula Ponn reveal how the meaning of art depends on its context, a context which is simultaneously influenced by When the story finishes.