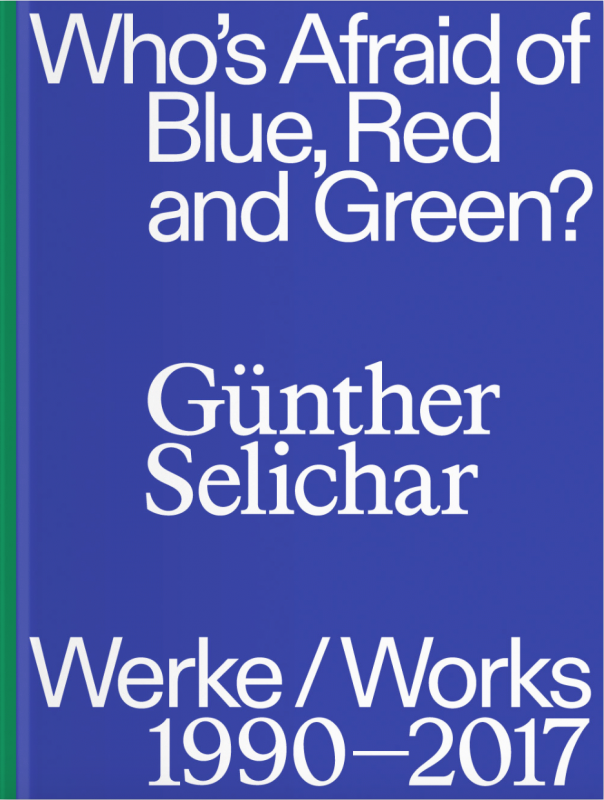 Who's Afraid of Blue, Red and Green? (1990–2017)
Günther Selichar
€ 49.00
Günther Selichars bevorzugtes thematisches Arbeitsfeld sind die Medien und Massenmedien, um die sich seine künstlerische und theoretische Arbeit seit Anfang der 1980er Jahre dreht und bei der vor allem seit etwa 1990 die Grundlagen der (massen)medialen Bilder und ihre Visualisierungstechnologien in den Mittelpunkt gerückt sind.
In zahlreichen Bildzyklen in diversen künstlerischen Medien und Projekten im öffentlichen Raum widmet er sich konsequent technologischen Fragen der Wahrnehmung. In unzähligen Vorträgen und Texten hat er Aspekte der Medientheorie und -politik mit seiner durchaus politischen Arbeit verknüpft sowie in seine Lehre als Professor für Medienkunst und Fotografie eingebracht.

Der wohl umfassendste Werkblock Who's Afraid of Blue, Red and Green? (1990–2017) umspannt rund 30 fotografische, malerische, druckgrafische und vor allem Projekte im öffentlichen (medialen) Raum und wird nun in einer umfassenden bibliophilen Publikation in einer Zusammenschau vorgestellt.
Das Buch, vom Leipziger Grafikbüro Lamm&Kirch aufwendig und umsichtig mit drei verschiedenen Covers gestaltet, erscheint im Wiener Verlag für moderne Kunst. Es dokumentiert nicht nur vollständig den erwähnten Werkblock, sondern beinhaltet auch Verweise auf alle wichtigen Bildserien, die in dieser Zeit entstanden sind und inhaltlich damit in Zusammenhang stehen, sowie die Kooperationen mit seiner Frau Loredana Flore-Selichar. Weiterhin versammelt das Buch sowohl Texte von langjährigen theoretischen und kuratorischen Wegbegleiterinnen und -begleitern als auch Interpretationen einer jüngeren Generation von Schreibenden aus den USA, Deutschland, der Schweiz und Österreich, die sich auf höchst interessante Weise diesem vielschichtigen und vieldiskutierten Werk nähern, und auch einen Text von Günther Selichar selbst, in dem er programmatische Überlegungen zu seinem Denkhintergrund offenlegt.
Für die grafische Gestaltung von Florian Lamm wurde das Buch bei der 28. Biennale für Grafikdesign in Brno mit dem "Preis des Bürgermeisters der Stadt Brno 2018" ausgezeichnet.
Sprache: Deutsch/Englisch