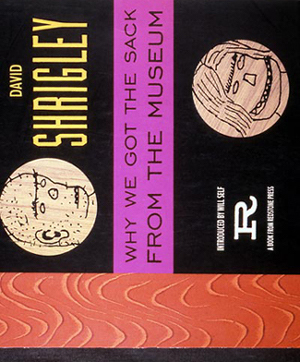 Article Number: 6990
Soft Cover,
English
, Glue Binding, 112 Pages, 1998, ISBN 1-870003-77-2
Why we got the sack from the museum
Imagine Jean-Michel Basquiat with a marker pen, stripped of artistic pretension, or the imaginary sketchbooks of Vic Reeves and Bob Mortimer, and you might just start to grasp the weird and wonderful world of David Shrigley.
As Will Self concedes in his introduction to Shrigley's new book Why We Got the Sack from the Museum, it is virtually impossible to explain the crude, anarchic humour and energy of Shrigley's drawings and observations. In fact, Shrigley's work can hardly be described as "drawing" at all, so unusual are his child-like, line depictions and comments on the dysfunctional urban world which he sees around him. Bees with human heads refuse to land on vegetation dismissed as "crap"; Shrigley invites the reader to attach postcards to car windows informing their owners that they are in fact the result of laboratory experiments involving rat droppings; a hastily drawn cup of tea is advertised for sale, £100 or nearest offer, white with two sugars. And so the book goes on, extremely funny and playful. Its darker and more cynical moments are made even funnier, and then disturbing, by the sheer naivety of the drawings.
Language:English