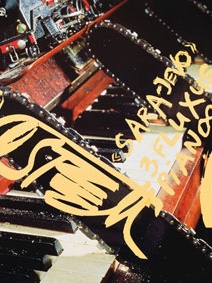 Article Number: 7497
CD,
English
, 1 Pages, 2014, Tochnit Aleph
Wolf Vostell - Concert Fluxus 'Sara-Jevo' LP
€ 26.40
Recording of Wolf Vostell's happening / Fluxus Concert 'Sara-Jevo', realised September 9th, 1994 at Fundació Pilar i Joan Miró in Mallorca, Spain.
Edition of 450 copies. Comes in fullcolour gatefold-sleeve with printed innersleeve. Co-released with Edition Telemark.
Wolf Vostell (1932–1998) was a German painter, sculptor, noise music maker and Happening artist. He is one of the pioneers of video art, environment-sculptures, Happenings and the Fluxus Movement. Together with Nam June Paik and George Maciunas he organised the Festival 'Festum Fluxorum' in Wiesbaden, Germany in 1962. This festival is considered to be the birth of the Fluxus movement. Vostell was the first artist in history to integrate a television set into a work of art ('Deutscher Ausblick' from 1958).
Language: English