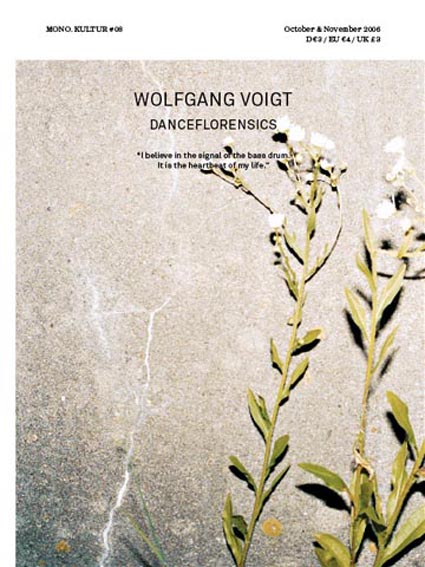 mono.kultur #8: Wolfgang Voigt
Danceflorensics
availability unknown, if interested please write an email
mono.kultur is an interview magazine in full length and depth, extensive and unfiltered. One interview per issue. Quarterly. #8 features Wolfgang Voigt Interview by Andrew Cannon and Kai von Rabenau Photography by Juergen Teller Design by Laurent Benner
The last musical revolution that irreversibly changed the face of pop culture already dates back almost 20 years and can be described in six letters: Techno. While the bass drum was kicked into life in the basements of Detroit and Chicago, Germany was quick to embrace and adapt Techno to its own needs, firmly establishing Berlin, Frankfurt and Cologne on the musical map, and rave parties on the weekend agenda.
Cologne's reputation as the epicentre for intelligent and minimal Techno – soon to be known as the Sound of Cologne – could well have been seen to be resting on the shoulders of producers such as Mike Ink, Wassermann, Studio 1, Profan, Freiland and M:I:5 – or rather, on the shoulders of Wolfgang Voigt, the mind behind all of these projects.
Pioneering an eclectic approach by fusing Techno with the rhythm structures of German carnival music, Polka or Schlager (crooning), Voigt consistently reinvented and developed electronic music with astonishing verve and vision. He continuously charted new territories for Techno by using and abusing the endless possibilities of the still young genre for his own ideas and headstrong musical concepts, without forgetting the primary target for his music: the dance floor. And even though he has not released any of his own music for the past five years, his influence can still be heard in the sound of the youngest generation of producers in clubs all over the world. His own musical output culminated in the ambient project Gas which broke out of the club context by distilling a hypnotizing and infinite density of orchestral loops and sounds reminiscent of the romantic German forest.
Since 1996, Wolfgang Voigt has given his attention to a project he initiated together with his brother Reinhard Voigt, Jürgen Paape, Jörg Burger, and Michael Mayer: the record label Kompakt. What began as a small record shop in Cologne in 1993, quickly turned into one of the global players on the music market that established a solid reputation for innovative electronic music of consistently high quality. More interesting though, is the fact that by housing everything from the label to recording studios to distribution to a record shop under one roof, Kompakt has succeeded at remaining truly independent by controlling the entire production chain from creator to consumer. Economically and artistically successful, it carefully bridges the gap between being an international trademark business and yet at the same time, a family affair.
Business and family, marketing strategies and pop fandom, encyclopaedic musical knowledge and rave parties, Bach and Acid, Cologne and globalism, intellectual theories and the straight bass drum – these are the polarities, somewhere between which Wolfgang Voigt can be positioned. Seemingly incompatible as all these characteristics might be he succeeded in merging them into a distinct sonic universe appealing to both, head and feet alike.