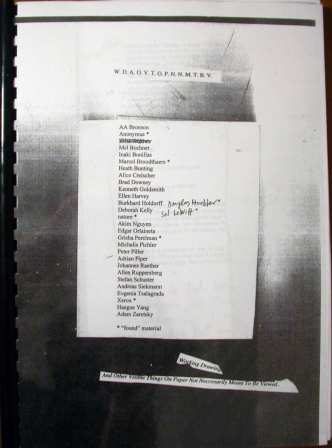 Working Drawing
And Other Visible Things On Paper Not Neccesarily Meant To Be Viewed
€ 16.00
The publication has 194 pages, was photocopied in an edition of 600 on the photocopiers of the cneai, Chatou (mostly on a Toshiba e-studio 210c, but also a konica 2223 and a Toshiba e-studio 120), handsorted, and bound in a Parisian copyshop.
The title is a paraphrase of Mel Bochners landmark project from 1966 as organized with the SVA. The last two words "As Art" have been omitted from the title.
Contributions: AA Bronson, Anonymus*, Inaki Bonillas, Mel Bochner, Marcel Broodthaers*, Heath Bunting, Alice Creischer, Brad Downey, Kenneth Goldsmith, Ellen Harvey, Douglas Huebler*, Burkhard Holdorff, Deborah Kelly, Sol LeWitt*, nature*, Akim Nguyen, Edgar Orlaineta, Grisha Perelman*, Michalis Pichler, Peter Piller, Adrian Piper, Johannes Raether, Allen Ruppersberg, Stefan Schuster, Andreas Siekmann, Evgenia Tsalagrada, Xerox*, Haegue Yang, Adam Zaretsky, * "found" material.

Put together by Michalis Pichler.