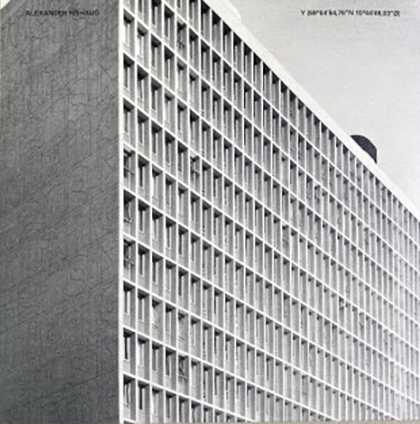 Y (59°54'54,76"N 10°44'46,03"Ø) - (2LPS)
€ 34.00
The H-block, or Høyblokka as it is called in Norwegian, was the Government Quarter's main building. The was building was completed in 1958. Architect Erling Viksjø was inspired by the French modernist Le Corbusier, and set out to create an elegant, monumental but sober functionalism.
On 22 July 2011 at 15:25:22 (CEST), a car bomb was detonated outside H-block. The car, a Volkswagen Crafter, was parked just outside the main entrance. The bomb killed eight people and injured a further two hundred. It also left a deep crater in the ground and caused major damage to the building, which nevertheless remained standing.

The terrorist then travelled to Utøya island outside Oslo, where the Labour Party Youth Wing, AUF – Arbeiderpartiets Ungdomsforening, held its annual summer camp. Disguised as a policeman, he killed sixty-nine innocent young people and injured another sixty-six before he was stopped by the police Delta Force Group seventy minutes later.

During two nights in October 2017, sound artist Alexander Rishaug was granted permission by Statsbygg (Norwegian Directorate of Public Construction and Property) to enter Høyblokka and record the sound of the vacant building. All the interior, furniture and equipment had been removed, leaving the building completely empty and abandoned, like a ghost in the middle of Oslo city centre.

Equipped with a directional microphone, two DPAs, and a set of contact mics, Rishaug began to explore and monitor the building's acoustics, vibrations and resonance. Y (59°54'54,76"N 10°44'46,03"Ø) is a sonic portrait of the Government Quarter, an investigation of Høyblokka's psychoacoustic state, at a point in time between past and future, before it is renovated, refurbished, and put to new uses as a political and administrative centre. In the title of this soundscape, the Y represents the Y-block and the coordinates (59°54'54,76"N 10°44'46,03"Ø) locate the H-block and the Government Quarter.

The album and art project is part of and co-produced by osloBIENNALEN, FIRST EDITION 2019 – 2024, curated by Eva González-Sancho Bodero and Per Gunnar Eeg-Tverbakk. osloBIENNALEN is initiated and financed by the City of Oslo, Agency for Cultural Affairs, Norway.

The project could not have been realised without the funding and courage from URO / KORO and Bo Krister Wallström.

Recorded inside Høyblokka, Oslo:
29 October 2017, 05:38PM–11:45AM
30 October 2017, 03:30PM–06:47AM

Recording assistant: Ilay Bachke

Mixed and edited by Alexander Rishaug at SinZen Studio, Oslo, 2018 – 2019

Mastered by Helge Sten at Audio Virus Lab, Oslo

Mastercut by Helmut Erler at Dubplates & Mastering, Berlin

Design by Blank Blank / Petri Henriksson and Sandra Stokka

Photos by Arne B. Langleite and Alexander Rishaug, October 2017

Cover photo by Teigens Fotoatelier circa 1960, Dextra Photo/NorskTeknisk Museum.
Backside photo by Arne B. Langleite

Copy Editing by Martin Berner Mathiesen

Booklet printed by Livonia Print Ltd.

Vinyl pressing by Optimal Media

Vinyl manufacturing by handle with care

The dialogue with Statsbygg regarding the recording sessions in Høyblokka were coordinated by Charlotte Hagelund and Jan Christensen.

Thanks to 22. juli-senteret for their trust and support and for granting permission to record during closing hours.

Thanks to Ebba Moi for endless love and support, Per Henrik Svalastog for critical feedback, Statsbygg for granting permission, DSS – Departementenes sikkerhets- og serviceorganisasjon for guiding us safely around the building.

Co-published by osloBIENNALEN, Agency for Cultural Affairs, City of Oslo and Motto.