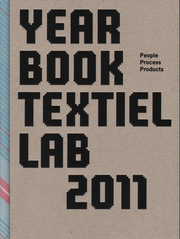 Article Number: 3837
Hard Cover,
English
, Glue Binding, 125 Pages, 2012
Yearbook TextielLab2011
availability unknown, if interested please write an email
The English-language publication, designed by Rob van Hoesel, invites the reader to explore the selected projects along different paths. Each project in the book is organised through a set pattern: people, process, product.
For the first time in years the Lab noticed a change in the type of projects. Hebe Verstappen, creative director of the TextielLab, explains: "In recent years we saw a clear shift to larger (interior design) projects. In order to achieve our ambitions it is necessary to transfer focus between the different techniques. Focus requires us to bring more depth to the quality of projects. The contracting of these larger projects and proactive approach of potential international clients have become our priority objectives."
The TextielLab at the Audax Textielmuseum Tilburg is a unique centre of knowledge which is both a company specialising in the manufacture of exceptional knitted and woven fabrics and an open studio where experimentation is central. Artists, promising students and (inter)national designers are accompanied by product developers and can explore the infinite possibilities in the application of materials and computer-controlled, decorative and manual techniques.