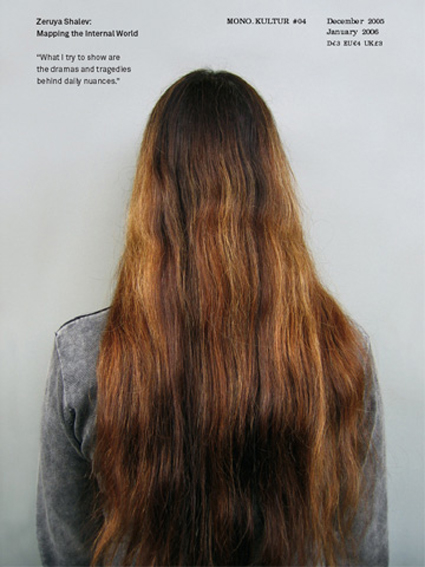 mono.kultur #4: Zeruya Shalev
Mapping the Internal World
availability unknown, if interested please write an email
mono.kultur is an interview magazine in full length and depth, extensive and unfiltered. One interview per issue. Quarterly. #4 features Zeruya Shalev, the most successful female writer in Israel today. Interview by Shira Hadad Photography by Uri Gershuni Design by Gila Kaplan
Zeruya Shalev's new book, Late Family, is written similarly to her previous novels, as an intensive internal monologue delivered by a troubled woman trapped in a dramatic personal crisis. The book's core issues of tearing apart a family and setting up a new one are familiar to Shalev from her own biography.
Shalev, whose books are translated into more than twenty languages, is the most successful woman writer in Israel today. Born in a Kibbutz she now lives in Jerusalem with her third husband, Eyal Meged, a popular Israeli writer as well. In addition to their common son they raise Shalev's daughter and her husband's children from a previous marriage. Although she did not start as a writer, Shalev has always dealt with written texts. First, in the academy when focusing on biblical studies and later, working as an editor for one of the largest Israeli publishers. In between she wrote poetry and published one poetry book in 1988, An Easy Target for Snipers. In 1993 she published her ?rst novel, Dancing, Standing Still, that did not succeed commercially. However, her next book, Love Life, was received with enthusiasm and gained a worldwide reputation. Since then she has written a children's book and two additional novels.
The emotional and internal world are central to her books and the lack of political references in her work shed an almost ironic light on the fact that of all people, she found herself directly confronting Israeli politics in January 2004 when she became a victim of a terrorist attack in Jerusalem, only a few meters from her home.