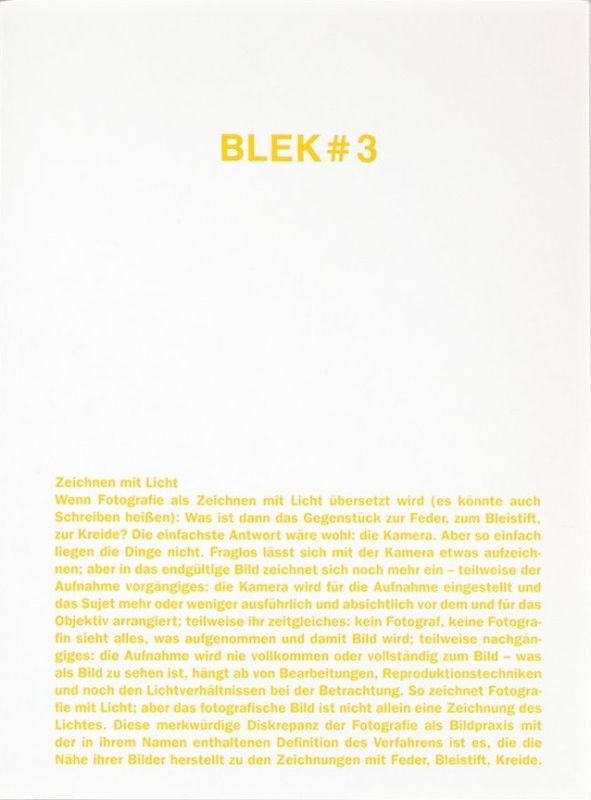 Article Number: 8149
Book with medium,
German
, 52 Pages, 2014, Blek
BLEK #3 - Drawing with Light
availability unknown, if interested please write an email
Wenn Fotografie als Zeichnen mit Licht übersetzt wird (es könnte auch Schreiben heißen): Was ist dann das Gegenstück zur Feder, zum Bleistift, zur Kreide? Die einfachste Antwort wäre wohl: die Kamera. Aber so einfach liegen die Dinge nicht.
Fraglos lässt sich mit der Kamera etwas aufzeichnen; aber in das endgültige Bild zeichnet sich noch mehr ein – teilweise der Aufnahme vorgängiges: die Kamera wird für die Aufnahme eingestellt unddas Sujet mehr oder weniger ausführlich und absichtlich vor dem und für das Objektiv arrangiert; teilweise ihr zeitgleiches: kein Fotograf, keine Fotografin sieht alles, was aufgenommen und damit Bild wird; teilweise nachgängiges: die Aufnahme wird nie vollkommen oder vollständig zum Bild – was als Bild zu sehen ist, hängt ab von Bearbeitungen, Reproduktionstechniken und noch den Lichtverhältnissen bei der Betrachtung. So zeichnet Fotografie mit Licht; aber das fotografische Bild ist nicht allein eine Zeichnung des Lichtes. Diese merkwürdige Diskrepanz der Fotografie als Bildpraxis mit der in ihrem Namen enthaltenen Definition des Verfahrens ist es, die dieNähe ihrer Bilder herstellt zu den Zeichnungen mit Feder, Bleistift, Kreide. - Text: Friedrich Tietjen Sprache: Deutsch Preis auf Anfrage