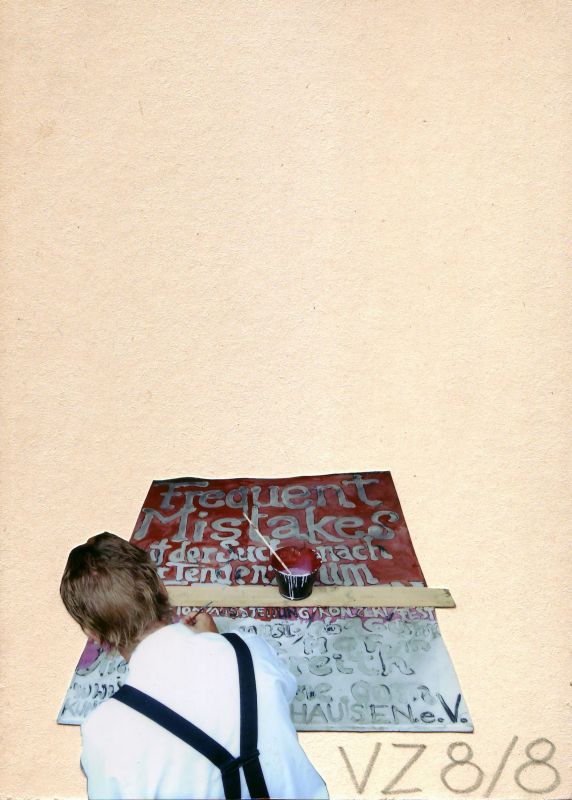 availability unknown, if interested please write an email
Auf der Suche nach der Tendenz zum Lebendigen. On the search for the tendency towards life.
Frequent Mistakes: Ein Symposium, mit der Anwesenheit von Saturn. Wir wollen es, über Jahre und wir bekamen es... anders als wir dachten. Doch das Symposium wandelte sich zum Ritus der sich dem stillen König zu diensten stellte. Wir nahmen teil an etwas, jeder auf seine Art und weise, das zumindest mir und ich denke auch allen anderen, etwas zeigte, wo nur die Kraft des Lebens einem hinführen kann... dort, wo ich am wenigsten hinschauen will. Weil da hockt die panische Angst vor dem leben. Auf einen Schlag war alles nur noch Wahnsinn. Sie teile flogen in die Luft, der Boden löste sich auf und innert, ein paar wenigen tagen raste ich dem Abgrund zu, den ich doch so listig zu umgehen versuchte. Ich erkannte Feigheit, Zurückhaltung und Versteck wo der totale Fluss ins leben doch einfach durch mich hindurch strömen wollte. Ich war schockiert. Ich starb. Doch mein Kind wurde geboren.
Quelle: Buchinhalt, Amber Kaufmann anlässlich des Symposions: "Frequent MIstakes, auf der Suche nach der Tendenz zum Lebendigen.