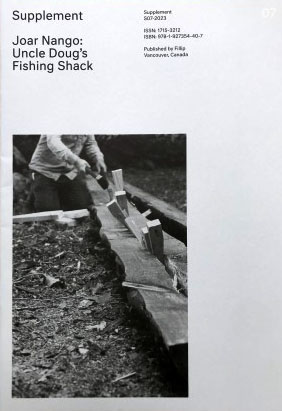 Joar Nango: Uncle Doug's Fishing Shack
Supplement 07:
€ 12.00
Supplement 7 traces Joar Nango's artistic process, mapping the development of his temporary installation and sculpture Uncle Doug's Fishing Shack presented at Plug In ICA (Winnipeg) in 2019 as part of Stages. The publication features an interview between Nango and Indigenous architect David Thomas about an abandoned military barracks' transformation into Canada's largest urban reserve.
It also includes a short essay by Indigenous architect Ryan Gorrie, in which he examines Circle of Life Thunderbird House in Winnipeg, designed by renowned Indigenous architect Douglas Cardinal. These texts are paired with critical writings by architecture lecturer Timothy O'Rourke and architecture scholar Courtney R. Thompson, who detail accounts of governmental suppression of Indigenous architectural and artistic ingenuity in both Australia and Canada.