100 x maison de verre
Das "maison de verre" (1931) von Pierre Chareau ist ein Wohnhaus in Paris. Seine Fassade, eine undurchsichtige Glaswand, machte es zur Ikone der modernen Architektur. Michael Carapetians Photographien aus dem Jahr 1965 zeigen dieses "kanonische und mysteriöse Haus von Nahaufnahmen von Konstruktionsdetails über Teilansichten der verschiedenen Räume mit ihrer besonderen Möblierung bis hin zur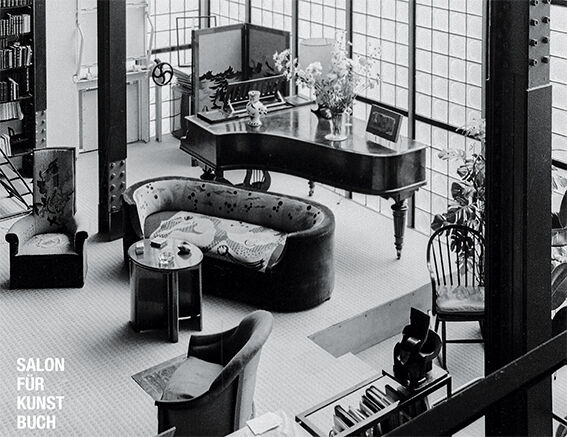 "100 x maison de verre" Mittwoch, 28. November 2018, 19.00 Uhr
Gäste im Salon:Michael Carapetian und Rike Felka, Berlin/Venedig Salon für Kunstbuch Belvedere21Arsenalstraße 11030 Wien www.salon-fuer-kunstbuch.at
Michael Carapetian. Das Glashaus. Architekturphotographien
Das "maison de verre" (1931) von Pierre Chareau ist ein Wohnhaus in Paris. Seine Fassade, eine undurchsichtige Glaswand, machte es zur Ikone der modernen Architektur. Michael Carapetians Photographien aus dem Jahr 1965 zeigen dieses "kanonische und mysteriöse Haus von Nahaufnahmen von Konstruktionsdetails über Teilansichten der verschiedenen Räume mit ihrer besonderen Möblierung bis hin zur wechselnden Gestalt des Hauses je nach Tages- oder Nachtzeit." (Kenneth Frampton) Mit den vorliegenden Photos haben an Architekturphotographie Interessierte Bilddokumente vor Augen, die aus architekturtheoretischer Perspektive die Besonderheiten der technisch-künstlerischen Leistung Chareaus zeigen. Erst vor wenigen Jahren wurde das Haus verkauft und das Mobiliar in alle Winde zerstreut.
Die Publikation, ein als Mappenwerk gestalteter Photoband, wird im Salon für Kunstbuch vom 29. November 2018 bis zum 22. Januar 2019 ausgestellt sein.

Michael Carapetian lebt in Venedig und London. Neben seiner Tätigkeit als Architekt und Professor war er als Architekturphotograph tätig. Er arbeitet heute mit Lichtdesign. 1965 verbrachte er mehrere Tage im "maison de verre" in Paris.
Rike Felka, Literatur- und Bildwissenschaftlerin sowie Verlegerin, lebt und arbeitet in Berlin. Publikationen und Lehrtätigkeit.
Bernhard Cella is interested in the economic and sculptural framework in which artists' books – highly informed objects in themselves – can be used as artistic materials. To this end, he conceptualized the 'Salon für Kunstbuch', a life-size model of a bookshop, in his studio in Vienna. Since 2007, more than 12.000 artists' books have accumulated and entered into unfamiliar vicinities and dialogues. Buying and selling these objects become an integral part of an original artistic practice.
1. Aufl., 100 Seiten, 100 Abbildungen, Maße: 20,2 x 28,9 cm, Vorlagenmappen, Deutsch, Mitarbeit: Frampton, Kenneth, Verlag: Brinkmann u. Bose.