14 x NL in 1070
Salon für Kunstbuch präsentiert ab Oktober 2007 einen Querschnitt aktueller Publikationen 14 höllandischer Kunstinstitutionen und Verlagsprojekten. Unter dem Titel "14 x NL in 1070" stellt der Salon eine Auswahl von Künstlerbüchern, Katalogen und Schriften zur Kunsttheorie zur Diskussion.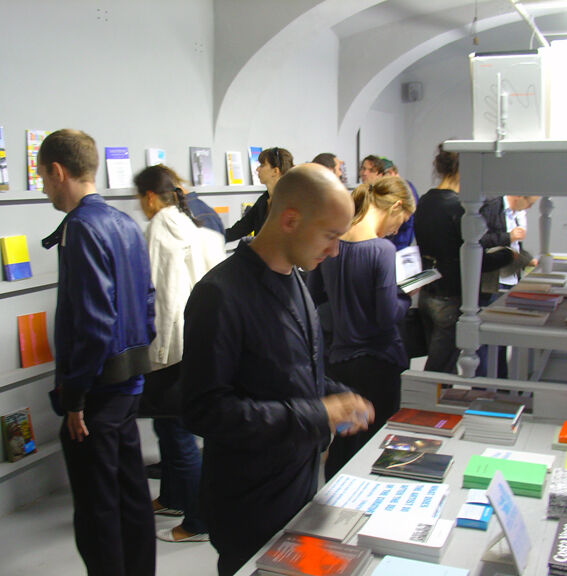 Die Ausstellung der niederländischen Kunstbücher umfasst folgende Verlage. Jan van Eyck Academie, Maastricht Biz publishers, AmsterdamDe Appel, Amsterdam
Salon für Kunstbuch präsentiert ab Oktober 2007 einen Querschnitt aktueller Publikationen 14 höllandischer Kunstinstitutionen und Verlagsprojekten. Unter dem Titel "14 x NL in 1070" stellt der Salon eine Auswahl von Künstlerbüchern, Katalogen und Schriften zur Kunsttheorie zur Diskussion.
The Jan van Eyck Academie is an institute for research and production in the fields of fine art, design and theory, based in Maastricht in the south of The Netherlands. The academy offers individuals and institutes the opportunity to submit research or production proposals. Besides, the Jan van Eyck itself also initiates projects for which artists, designers and theoreticians can apply. In order to realise these projects the academy offers the necessary made-to-measure artistic, technical and auxiliary preconditions and develops contacts with external partners. Since the academy is not led by predetermined leitmotivs, the subject matters of the various research projects of the international artists, designers and theoreticians are heterogeneous. These miscellaneous projects form the basis for several events which are organised each week: lectures, seminars, screenings, exhibitions,? External interested parties are welcome to attend these activities. The result is a dynamic and critical exchange between the different agents from within and without the Jan van Eyck.
The Jan van Eyck is an open institute. This openness is important not only for the outside world – both near and far – but first and foremost also for the Jan van Eyck itself: external feedback on the research and productions are good for its projects. That is the objective of the open approach which characterises the Jan van Eyck at all its levels. This openness is particularly given shape in the cooperation with local, euregional, national and international institutes. The Jan van Eyck acts as intermediary and partner in initiating research, realising productions and stimulating debate. The Jan van Eyck actively contributes to raising the level of the international debate on art, design and theory, from The Netherlands, from Maastricht. www.janvaneyck.nl/
Stroom Den Haag regularly publishes books, brochures and other items in concurrence with its activities and in support of its general policy. The presentation of the Ouborg Prijs is always accompanied by a publication. In addition Stroom initiates publications dedicated to the history, developments and general climate of art, architecture and design in post-war The Hague. The program of Stroom Den Haag focuses on the urban environment from the viewpoint of visual arts, architecture, urban planning and design. Stroom aims to encourage critical and creative thought about the contemporary city; both in general and about the city of The Hague in particular. By combining the expertise, viewpoints, knowledge, methods and ideas from various fields,  a unique position is created from which the complex  web which makes up the urban environment can be approached. The theme 'urban space' is the common link between many of Stroom's activities . This is the area Stroom has specialized in over the years.
de Appel arts centre 'De Appel Curatorial Training Programme' was initiated in 1994 by former director Saskia Bos, currently Dean of The School of Art at Cooper Union in New York. From the onset the course wished to bridge the gap between art historical education and 'practice' in the field of contemporary art by offering young curators a condensed package of experiences and skills which can be used as tools and instruments during the further development of their professional caree. Since 2006/2007 the curriculum of the programme, from then on entitled 'de Appel Curatorial Programme', has been reshaped under the guidance of director Ann Demeester and the new tutorial team. This e.g. implied a remarkable expansion of the tutorial team and an extension of the programme period to 8 months. Further changes included the introduction of a sequence of thematic workshops (ranging form 'The History of Exhibitions' to 'Contemporary Project Management') and the inclusion of a longer research trip to a destination outside Western Europe
1. F.R. David This journal focuses on writing as the core material of a number of visual artists but equally as a mode that exists parallel to or in service of the visual. F.R. David appears twice a year.
 2. Artists books Instead of catalogues that cover the exhibition documentary, books are published by artists following their own wishes in timing and character of the contents.
 3. Curating history books Based on the history of exhibition making and the current practice of the curator diverse aspects of curating are documented in readers.
Stedelijk Museum Bureau Amsterdam (SMBA) is a project space of the Stedelijk Museum Amsterdam and located in the city centre. The objective of SMBA is to present contemporary art from an Amsterdam context and to create an international context for it by organizing exhibitions, lectures, debates, publications and residency programmes. Jelle Bouwhuis is the curator of SMBA.
Bureau Amsterdam has existed since late 1993, and celebrated its tenth anniversary in 2004. It is the successor to Museum Fodor, which closed in 1992. At its founding, the task of SMBA was formulated as stimulating and drawing attention to contemporary art in Amsterdam.
In its activities the Bureau is increasingly moving outside its four walls. SMBA's project space is located in the Rozenstraat, and used primarily for the presentation of exhibitions. Lectures and book launches are also held there. In addition, projects initiated by SMBA are scattered around the city at various locations. For instance, the Bureau is involved with the Positivism Foundation, which programmes the film screens on 11, and also with the SMCS on 11 sessions. SMBA is the co-organiser of the BijlmAIR residency projects and South Axis Artist in Residence. These residencies provide accommodation for artists for a limited period, enabling them to reflect on various aspects of the district of the city involved by making art.www.smba.nl
Witte de With was established in 1990 as a center for contemporary art with the mission of introducing contemporary art and theory in the context of the City of Rotterdam as well as the Netherlands as a whole. The institution initially sought to present an alternative to both the classic museum for modern art and existing artists' initiatives. Over the years, Witte de With has evolved, growing to also commission and produce new works of art. This has resulted in the development of a local, national and international network of people and organizations who follow and actively support the institution's activities. From the very start, many of these were accompanied by or documented in publications, which are now widely distributed and read.
Witte de With continues to see its task as presenting the latest developments in contemporary art, without making concessions concerning their content, yet simultaneously seeking to reach as broad a public as possible. This website supports these efforts by providing news, an archive, background materials, and the opportunity for the public to react and interact. www.wdw.nl
Mediamatic New Media, Art, Culture, Theory Mediamatic is a cultural institution in Amsterdam. We do exhibitions, presentations, workshops and other activities in Amsterdam and internationally. This site combines an overview with news and theory. It's edited automatically with anyMeta, matching the topical with heritage in a sometimes fuzzy, but always surprising way. www.mediamatic.net
The Rietveld Academy seeks to develop the capacities and creativity of the individual student to its utmost.
We respect the individual and respect his/her liberty to develop a personal approach and this way to decide on his/her own future. We have chosen for the aspects of investigation, the experiment and authorship. Next to this we value an open attitude towards the environment and we are keen advocates of the involvement with others and with society. This results from our confirmed vision of what we think art education should be.
The Rietveld Academie is internationally orientated; around forty percent of the students at the Academie originates from outside the Netherlands. They come from more than forty different countries. Therefore a lot of English is spoken at the academy and in some classes English is the main language.
The academy maintains a large number of international contacts. There are regular student-exchange programmes with a number of foreign institutions. Among these are schools in New York, Chicago, San Francisco, London, Edinburgh, Paris, Barcelona, Lisbon, Berlin, Copenhagen, Oslo, Helsinki, Milan, Jerusalem, and Melbourne.
Collaborative projects are undertaken and joint activities organized (exhibitions, publications and workshopsThe academy, together with the Schule für Gestaltung in Basel, is the co-founder of AIAS, the International Association of Independent Schools for Art and Design.
Roma Publications is an independent publishing project, founded by artist Mark Manders and graphic designer Roger Willems. It is used as a platform to produce autonomous publications in close collaboration with a growing number of artists, institutions, writers and designers. Related to the content, every issue has it own rule of appearance and distribution, varying from house to house papers to exclusive books. Until now the publications have editions between 2 and 150,000.
Veenman Publishers, founded in 2005, supports and promotes young international artists, photographers, fashion and graphic designers. The greater part of our activities relate to publishing with a particular focus on books by emerging artists, created in close colla-boration with graphic designers. We distribute the titles of POC Editions, an international network of photographers; see www.pocproject.com for information on their collaborative projects. And we work closely with museums and galleries in the Netherlands and abroad. www.veenmanpublishers.com
NAi Publishers is a specialist in the publication of books about architecture, urban design, spatial planning, contemporary art, photography and design.
Most of the titles from NAi Publishers are published in Dutch and English. This is to enable us to reach as large a public as possible, within and beyond the Netherlands. Our spring and fall catalogues are also available in Dutch and English and are distributed all over the world.
NAi Publishers has an extensive sales and distribution network both in the Netherlands and around the globe. We regularly work on co-productions with German, Spanish, French and Italian publishers.www.naipublishers.nl
The Royal Academy of Art (KABK) has the opinion that art is, national and international, one of the most important and innovative sources of energy for our society. Self-willed and researching artists and designers will keep these sources alive. The Royal Academy is searching for these kinds of people and would like to give them the opportunity to develop themselves here. Students have to find and are stimulated to look behind their boundaries.
In addition to bachelor studies: ArtScience, Fine Arts, Graphic Design, Interactive / Media / Design, Interior design, Photograpy and Textile and Fashion, the KABK offers master studies as well . We offer the one year study Type and Media, Image and Sound / ArtScience and the Post Graduate Course Industrial Design. About one thousand students are currently studying at the KABK, fifteen percent of these are foreign students. The students are offered ateliers, multiple material shops, eight professionally equipped work places and free internet. The KABK has 160 teachers, all of whom have an active professional career as an artist or designer besides their teaching job. Since 1990 the KABK forms together with the Royal Conservatoire the Academy of Fine Arts and Design, Music and Dance. The KABK is the Faculty of Fine Arts and Design. We are actively involved with the Faculty of Creative and Performing Arts of the University of Leiden. This is why many study elements of this University are available for the students of the KABK, such as the master programmes Media Technology and Photographic Studies. www.kabk.nl
Witte de With, Center for Contemporary Art Mediamatic, Amsterdam Stedelijk Museum, Amsterdam NAI Publishers, Rotterdam Stroom, Den Haag Veenman Publishers, RotterdamBureau Amsterdam, Amsterdam, Roma publication, Amsterdam Missing books, AmsterdamEpisode, Rotterdam Valiz, Amsterdam