Buchempfehlung für Spätzünder
Snapshots of Bloomsbury
The Private Lives of Virginia Woolf and Vanessa Bell Maggie Humm In this enthralling portrait, Maggie Humm makes available, for the first time, a wealth of barely known photographs, both amateur and professional, that cast new light on the private lives of Virginia Woolf and Vanessa Bell, as well as the historical, cultural, and artistic milieux of their circle in Bloomsbury and beyond.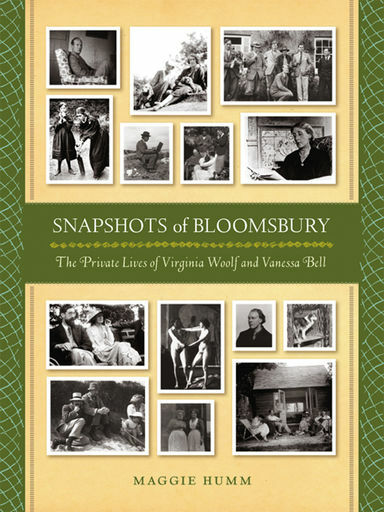 The Private Lives of Virginia Woolf and Vanessa Bell Maggie Humm In this enthralling portrait, Maggie Humm makes available, for the first time, a wealth of barely known photographs, both amateur and professional, that cast new light on the private lives of Virginia Woolf and Vanessa Bell, as well as the historical, cultural, and artistic milieux of their circle in Bloomsbury and beyond. We visit the domestic lives of major nineteenth- and twentieth-century writers and artists, such as E. M. Forster, who is pictured happily pruning trees with Leonard Woolf, T. S. Eliot, and Sir Arthur Conan Doyle. There are intimate portraits of Vanessa Bell's children and erotic photos of Duncan Grant's lovers. The parade of characters portrayed in the photographs is long and full, including Vita Sackville-West, Roger Fry, David Garnett, Lady Ottoline Morrell, Walter Sickert, Clive Bell, the Stracheys, Dora Carrington, Cyril Connolly, John Maynard Keynes, and many more. The domestic photographs, taken predominantly with the enormously popular vest-pocket Kodak cameras of the time, are complemented by the professional photographs of Man Ray and Gisele Freund. Meticulously researched and painstakingly organized, this unique book brings critical insight to the remarkable photographs preserved in the archives of Tate and the Harvard Theatre collection. In doing so, it places domestic photography at the forefront of cultural studies of modernism, bringing vividly before us the real lives of the individuals at the heart of the Bloomsbury circle.
Form
Ästhetische Theorie
Trotz anhaltender Kritik am ›Formalismus‹ und am Begriff der ›Form‹ überhaupt erweist sich ›Form‹ bis heute als unverzichtbare Kategorie ästhetischer Theorie. Form ermöglicht es, die beiden Dimensionen von Ästhetik, Wahrnehmungslehre und Theorie der Künste, zusammen zu denken: Dies betrifft Fragen nach ästhetischer Erfahrung ebenso wie Fragen nach den Konstitutionsbedingungen von Künsten, Gattungen und einzelnen Kunstwerken. Ausgehend von formtheoretischen Positionen und künstlerischen Arbeiten von der zweiten Hälfte des 18. Jahrhunderts bis in die Gegenwart thematisieren die AutorInnen dieses Bandes Singularität und Dynamik als zwei zentrale Aspekte von Form sowie die stets virulente Frage nach einer Politik der Form. Mit Beiträgen von Werner Busch, Marcus Coelen, Andreas Gailus, Rodolphe Gasché, Anke Hennig, Hermann Kappelhoff, Sebastian Klotz, Michael Lüthy, Barbara Naumann, Bernhard Schieder, Jan Völker, Benjamin Wihstutz und Sebastian Zeidler.
Form/ Ästhetische Theorie
Julian Rosefeldt: American Night
Julian Rosefeldt gehört zu den bildmächtigsten Künstlern an der Schnittstelle zwischen narrativem Film und komplexer Filminstallation. Seine suggestiven Bildwelten behandeln seit Ende der 90er Jahre – mit deutlichen Anspielungen auf die barocken Traditionen des 'theatrum mundi' – das (kinematographische) Spiel mit Schein und Sein und das Leben in ewiger Wiederholung. Auf einer weiteren Ebene spielen fast alle Arbeiten Rosefeldts mit der Idee des tableau vivant und seiner bewegten Bewegungslosigkeit. In der visuell überwältigenden 5-Kanal-Filminstallation American Night (2009), die diesem Buch zu Grunde liegt, reflektiert Rosefeldt zum einen das Genre des Westerns, mit seinen mittlerweile tradierten Motiven, und entlarvt dabei zugleich die filmische Logik seiner Szenen, indem er auch einen Blick hinter die Kulissen, auf das Set und den Produktionsprozess gewährt; zum anderen verbindet Rosefeldt in der Installation den Gründungsmythos Amerikas mit seiner aktuellen hegemonialen Außenpolitik.
Julian Rosefeldt: American Night
Liebe - Eine Übung
Niklas Luhmann
Der nun edierte Aufsatz, geschrieben 1969 als Vorlage zu einem der ersten Bielefelder Seminare Luhmanns, behandelt die Liebe ohne den Apparat des Gelehrten. Er bietet eine direkte und pointierte Darstellung der bis heute einzigen soziologischen Theorie der Liebe, die wir haben. Individuen kann man bekanntlich daran erkennen, daß sie einen Knick in der Optik haben. Sie gewinnen allen öffentlich zugänglichen Dingen und Ereignissen einen zweiten Sinn ab, der zunächst einmal nur für sie selbst zugänglich ist. In dieser höchst persönlichen Optik mag dann etwa als Langsamkeit eines Mitmenschen erlebt werden, was dieser der Ungeduld des Erlebenden selbst zurechnen würde. Besonders konsensfähig ist diese individualisierte Art des Erlebens also nicht. Immerhin kann der Fall eintreten, daß ein anderer, statt einfach nur mit dem Kopf zu schütteln, sich in meine Weltsicht hineinversetzt und dann sogar anfängt, sie durch eigenes Handeln zu bestätigen: Statt mir Ungeduld vorzuwerfen, handelt er selbst etwas schneller. Für die anderen ist mein Erleben dann immer noch unmaßgeblich, aber für den anderen hat es offenbar die Kraft eines starken Motivs. So wird es mir leichter gemacht, der zu sein, der ich bin.
Liebe - Eine Übung
Niklas Luhmann
AS A WEASEL SUCKS EGGS
An Essay on Melancholy and CannibalismDaniel Birnbaum and Anders Olsson This mind-altering meditation on hunger, the true nature of food and melancholy was first published in Sweden in 1992. It is no less relevant today, as the authors examine the enigmatic relation of melancholia to an early kind of cannibalism, using readings from Kafka, Beckett, Freud and Hegel, among others, to illustrate their points. Touching on such themes as primitive sacrificial rites and contemporary anthropology, philosophy and linguistic theory, the text asks if it is possible to transfer this idea of a different kind of food to other art forms, such as painting and sculpture. "The saturnine mind is gloomy and depressed, yet inspired and radiant," write the authors. "It is the state of mind of inspiration.
AS A WEASEL SUCKS EGGS
An Essay on Melancholy and Cannibalism
Daniel Birnbaum and Anders Olsson
On (Surplus) Value in Art
Diedrich Diederichsen
Drawing on fresh readings of Marxist and post-modern thought, renowned German cultural critic Diedrich Diederichsen compares the abstract and climbing values of artworks with the plunging value of music—a traditionally immaterial art—in order to formulate a broad reflection on the current "crisis of value in the arts."In his essay, Diedrich Diederichsen applies the Marxist theory of surplus value (Mehrwert) to rationalize value formation in contemporary art, in sly defiance of the invocation of art's "extra special" quality (which, ironically, is also implied in the colloquial use of Mehrwert) as a substitute for serious discussion on the subject. He then goes on to elaborate on art as a "commodity form" and on the notion of "aura" that applies to this. Continuing to operate in contradistinction to received wisdom, he accounts for aura regardless of the specific material constitution and uniqueness of an art object, yet (perhaps paradoxically) preserves the notion of this object as "index". Here too contemporary art's condition of reproducibility acquires crucial nuance. The final chapter compares contemporary art to other cultural industries, such as music and film, which are firmly under the sway of digital reproductive economies yet, unlike contemporary art, are experiencing diminishing possibilities for the creation of surplus value. Diedrich Diederichsen's text offers provocative resolutions to the question of Mehrwert in art that are ripe for debate. Especially perhaps, in his final paragraphs, where the "special case" of contemporary art is dealt a set of disturbing predictions about the shifting cultural values that attend the economic ones.
On (Surplus) Value in Art
Diedrich Diederichsen