Buchempfehlungen
like your work:art and etiquette
Pamphlet on art and etiquette published by Paper Monument, with contributions from 38 artists, critics, curators, and dealers on the sometimes serious and sometimes ridiculous topic of manners in the art world. Designed by Project Projects and co-edited by Prem Krishnamurthy. The art world is now both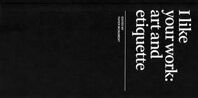 Buchempfehlung

socially professional and professionally social. Curators visit artists' studios; collectors, dealers, and journalists assemble for a reception and reconvene later for dinner; everyone goes to parties. We exchange introductions and small talk; art is bought and sold; careers (and friendships) brighten or fade. In each situation, certain behaviors are expected while others are silently discouraged. Sometimes, what's appropriate in the real world would be catastrophic in the art world, and vice versa.Making these distinctions on the spot can be nerve-wracking and disastrous. So we asked ourselves: What is the place of etiquette in art? How do social mores establish our communities, mediate our critical discussions, and frame our experience of art? If we were to transcribe these unspoken laws, what would they look like? What happens when the rules are broken? Since we didn't have all the answers, we politely asked our friends for some help. Featuring: James Bae, Jay Batlle, Andrew Berardini, Dike Blair, Matthew Brannon, Sari Carel, Naomi Fry, Maria Elena González, Michelle Grabner, Ethan Greenbaum, Sara Greenberger Rafferty, A.S. Hamrah, Steffani Jemison, Paddy Johnson, Angie Keefer, Prem Krishnamurthy, David Levine, Pam Lins, Jason Murison, Dan Nadel, Bob Nickas, Wendy Olsoff, Dushko Petrovich, Kaspar Pincis, Richard Ryan, Jessica Slaven, Ryan Steadman, Amanda Trager, Rachel Uffner, and Roger White.
I like your work: art and etiquette
56 pages, perfect bound, € 8.-

Realismus in den Künsten der Gegenwart
Wirklichkeitseffekte: Die Künste der Gegenwart geben Anlass, nach ihren realistischen Tendenzen und Impulsen zu fragen. Verstärkt wenden sie sich dem Sozialen und Politischen zu, in dokumentarischer, investigativer oder wirklichkeitsverändernder Absicht. Die breite Verwendung von Fotografie und Film, vielfältige Reflexe auf mediengenerierte Wirklichkeitseffekte, die intermediale Verbindung unterschiedlicher künstlerischer Verfahren und nicht zuletzt ein entgrenzter Begriff der sozialen und politischen Dimension der Kunst charakterisieren eine ästhetische Produktion, deren Kunststatus häufig prekär ist, die aber zeitgemäß anmutet, weil sie global rezipierbar wird.
Der Band interessiert sich insbesondere für jene Realismen, die über eine Darstellung der Wirklichkeit hinausgehen und den gegenwärtig festzustellenden Monopol anspruch der Realität reflektieren. Die Beiträge suchen nach Begründungen, me dialen Strategien und historischen Bezügen des gegenwärtigen Realismus in bildender Kunst, Literatur, Film, Theater und Musik und stellen philoso phische und kunsttheoretische Überlegungen dazu vor.
Mit Beiträgen von Armen Avanessian, Diedrich Diederichsen, Heiner Goebbels, Dorothea von Hantelmann, Daniel Illger, Susanne Knaller, Dirck Linck, Kirsten Maar, Volker Pantenburg, Brigitte Obermayr, Jacques Rancière, Frank Ruda, Bernhard Schieder und Allan Sekula.
Rarely seen Bas Jan Ader
In 2007 a video of a few second black and white film was uploaded to Youtube with the title, "Rarely Seen Bas Jan Ader Film." The black and white film depicted a figure biking into the ocean. The posting claimed that the film was found in Ader's locker at UC Irvine after his disappearance at sea in 1975, and that the film was assumed unusable because it abruptly runs out just as the figure enters the water. Responding to a complaint by a thirdparty, Youtube deleted the posted video, saying that "this material is infringing."
Rarely Seen Bas Jan Ader Film is a flipbook comprised of stills from the film. While supplies last, the book will also come with a 2 sided newsprint Horvitz produced for his exhibition at the 2nd Cannons gallery space.
Nijinsky
This book accompanies a multi-dimensional film project by Auckland artist Sriwhana Spong for Art Basel 2010, which began as a re-imagining of one of the lost masterpieces of ballet, George Balanchine's The Song of the Nightingale. Based on music by Stravinsky, "Nightingale" was originally choreographed in 1925 for the itinerant Ballets Russes. All that remains today are fragments of a film of the ballet, Stravinsky's score, and photographs of the costumes by Henri Matisse. In the book, Spong uses stills from the films along with collage works that overlay geometric forms onto found ballet photography. Includes texts by Sarah Hopkinson and Gwynneth Porter. Both Spong and Balanchine share the philosophy expressed in Balanchine's famous maxim,"Before is over. Performance is now."
Realismus in den Künsten der Gegenwart
Dirck Linck (Hg.), Michael Lüthy (Hg.), Brigitte Obermayr (Hg.), Martin Vöhler (Hg.)272 Seiten, Engl. Broschur € 30,70.-
David Horvitz, Rarely Seen Bas Jan Ader Film (flipbook) 2009, 1st printing, edition of 500

Sriwhana Spong Nijinsky Softcover, 112 pages, Colour & Black/white images, English € 35.-