Die Schallplatte als Musikattrappe
Michel Roth, Vortrag und Gespräch
Mitte der Siebzigerjahre haben sich wichtige Vertreter der Wiener Gruppe und des Wiener Aktionismus mit dem Schweizer Künstler Dieter Roth in der Villa Romenthal am Ammersee zusammengefunden, um gemeinsam zu musizieren. Außer Rühm hatte keiner eine musikalische Ausbildung – Ziel war, eine Schallplatte zu "füllen". Entstanden ist eine einmalige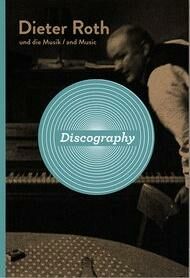 Die Schallplatte als MusikattrappeMichel Roth

Vortrag und Gespräch
Mittwoch 11. Mai 2016, 19 Uhr

Salon für Kunstbuch 21er Haus

Arsenalstr. 1
1030 ViennaAustria map
Brus, Nitsch, Roth und Rühm spielen Streichquartett
Mitte der Siebzigerjahre haben sich wichtige Vertreter der Wiener Gruppe und des Wiener Aktionismus mit dem Schweizer Künstler Dieter Roth in der Villa Romenthal am Ammersee zusammengefunden, um gemeinsam zu musizieren. Außer Rühm hatte keiner eine musikalische Ausbildung – Ziel war, eine Schallplatte zu "füllen". Entstanden ist eine einmalige Box von drei Schallplatten, ein Gesamtkunstwerk von Wort, Ton und Bild, das sich an den höchsten musikalischen Vorbildern misst und gleichzeitig im Widerstreit mit dem eigenen Unvermögen und den alkoholisierten Mitmusikern eine faszinierend "Selten gehörte Musik" entstehen lässt. In seinem Vortrag beleuchtet Michel Roth die verwickelten Hintergründe dieser audiophilen Künstleredition mit vielen Hörbeispielen, die zum gemeinsamen Gespräch anregen sollen.
Michel Roth lebt in Luzern und ist Komponist und Musikforscher. Er lehrt als Professor für Komposition an der Hochschule für Musik Basel und hat in den vergangenen Jahren das Musikschaffen von Dieter Roth und seinen Mitmusikern intensiv erforscht. Aktuell arbeitet er an einer spieltheoretischen Untersuchung zum Schaffen von John Cage. Seine zweite Oper, "Die Künstliche Mutter", wird 2016 am Lucerne Festival Premiere feiern.

Sound & Buch
Akustisches Denken in der Kunst

31. MÄRZ – 3. JULI 2016
Ohne auf das Wissen um die Komplexität visueller Kultur zu vergessen, wenden sich bildende Künstlerinnen und Künstler der Gegenwart dem Hörerlebnis zu und erkunden dieses neu. Von Malern entworfene Schallplatten, Lautpoesie zum Durchblättern, das akustische Protokoll eines Ausstellungsaufbaus in Vinyl gepresst - im Salon für Kunstbuch 21er Haus installiert Bernhard Cella derzeit eine Ausstellung als "Shop im Shop" mit historischen und aktuellen Werken zum Themenkreis Sound & Buch.
Bis 3. Juli 2016 stellen internationale Gäste ihre aktuellen Arbeiten und Publikationen im Kontext von Salonabenden vor.
Präsentiert werden verschiedene Formate wie Lautpoesie, Radiokunst oder Sprechplatten mit O-Tönen. Die Mehrzahl der im Salon für Kunstbuch gezeigten Exponate stammt aus der Sammlung Löwenbrück, Berlin. Viele sind als Editionen käuflich zu erwerben.
Mit Beiträgen von:
AA Kommune, AH AH AH editions, Karl Appel, Artist Lecture Series Vienna, Ana Maria-Avram, Thomas Baldisch-wyler, Georg Baselitz, Joseph Beuys, David Blamey, Jakob Boeskov, Uwe Bresnik, Günter Brus, Care Of Editions – Ezra Buchla, Scott Cazan, Lucrecia Dalt, Chicks On Speed, [#/Tau]-Boris Hegenbart und Marc Sabat, Henri Chopin, Gruppe CoBrA, Brady Cranfield, Salvador Dali, Hanne Darboven, Timothy Dewit, Antonio Dias, Jean Dubuffet, Iancu Dumitrescu, Valie Export, Thomas Feuerstein, Kasia Fudakowski, Giradischi, Goloka/GOL, Franz Graf, Eckehard Güther, Peter Handke, Florian Hecker, Bernard Heidsieck, Jamie Hilder, Karl Holmqvist, Dorothy Iannone, Clara Iannotta, Eren İleri, Robert Jelinek, Serhat Köksal, Christina Kubisch, Hans Krüsi, Dorothy Iannone, Brandon LaBelle, Claudia Märzendorfer, Cildo Mereiles, Christof Migone, Matthew Morandi, Otto Muehl, Maurizio Nanucci, Hermann Nitsch, Katrin Plavcak, Philipp Quehenberger, Roman Opalka, Arnulf Rainer, Vincent Romagny, Dieter Roth, Gerhard Rühm, Hans Schabus, Ravi Shardja, Daniela Silvestrin, David Le Simple, Jean Tinguely, Die Tödliche Doris, Roland Topor, Tortuga, Clifford Trunk, Vagina Dentata Organ, Wolf Vostell, Valentina Vuksic, Seth Weiner, Franz West, Monsti Wiener, Peter Weibel, Adolf Woelfli, Josef Zekoff, Heimo Zobernig u. a.
Bernhard Cella is interested in the economic and sculptural framework in which artists' books – highly informed objects in themselves – can be used as artistic materials. To this end, he conceptualized the 'Salon für Kunstbuch', a life-size model of a bookshop, in his studio in Vienna. Since 2007, more than 10.000 artists' books have accumulated and entered into unfamiliar vicinities and dialogues. Buying and selling these objects become an integral part of an original artistic practice.
www.cella.at http://collectingbooks.cella.at www.salon-fuer-kunstbuch.at

Discography, Edizioni Periferia Luzern; Kunsthaus Zug;224 Seiten, Softcover September 2014, bestellen EUR 58.-

Bernhard Cella, Sound & Buch, Irisprint auf Papier, 40x50cm, Nr. 2/3, 2016