Film zeichnen 1–4
Prozesse des Schauens - Überlegungen in Bildern
In film zeichnen wird eine Auswahl von Standbildzeichnungen, die im Rahmen der Filmanalysen für das transdisziplinäre Forschungsprojekt Film.Stadt.Wien und während der Filmrecherchen für den Kompilationsfilm Film ist. a girl & a gun (Gustav Deutsch, 2009) entstanden sind, als eigenständiges künstlerisches Medium präsentiert und einem Bildatlas aus Filmstills und assoziativen Fotografien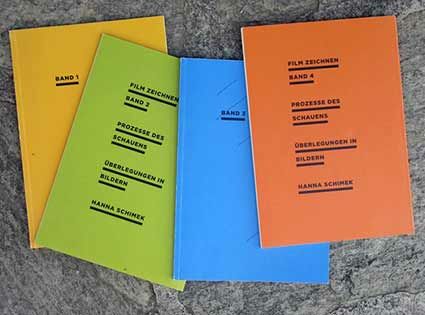 Donnerstag, 8. Oktober 2015, 19.00 Uhr

Gäste im Salon: Gerda Lampalzer im Gespräch mit Hanna Schimek

Medientransfer – das meint zum Beispiel: vom Film zum Standbild . . . vom Standbild zur Zeichnung . . . von der Zeichnung zum Bilder-Atlas . . . und zum Künstlerbuch. In einem assoziativen Gespräch werden sich die Künstlerin und Medientheoretikerin Gerda Lampalzer und die Multi-Media-Künstlerin Hanna Schimek den Themen der Künstlerbuch-Serie film zeichnen nähern.
In film zeichnen wird eine Auswahl von Standbildzeichnungen, die im Rahmen der Filmanalysen für das transdisziplinäre Forschungsprojekt Film.Stadt. Wien und während der Filmrecherchen für den Kompilationsfilm Film ist. a girl & a gun (Gustav Deutsch, 2009) entstanden sind, als eigenständiges künstlerisches Medium präsentiert und einem Bildatlas aus Filmstills und assoziativen Fotografien gegenübergestellt. Er verweist auf kunst- und kulturgeschichtliche sowie auf medienhistorische Aspekte des kulturellen Bildgedächtnisses und widerspiegelt weiterführende Gedankenverknüpfungen und eine intensive visuelle Auseinandersetzung mit dem filmischen Material und seinen vielfältigen Bedeutungen.

Hanna Schimek
Konzeption und Realisation interdisziplinärer Kunstprojekte, Recherche und Kuratorenschaft für Film und visuelle Medien, Kunst im soziokulturellen Kontext, Malerei und Zeichnung, Photographie, Künstlerbücher. Seit 1985 gemeinsame Arbeiten mit Gustav Deutsch (D&S).2009 – 2011 Partnerin des transdisziplinären Filmforschungs- Projekts Film.Stadt.Wien (LBG, ÖFM, D&S). 2013 Österreichischer Filmpreis für bestes Szenenbild, Shirley - Visions of Reality (gem. mit G.Deutsch).
Gerda Lampalzer
Arbeiten im Bereich Video, Fotografie, Installation, Text. Kuratorentätigkeit, Vorträge, Lehre und Publikationen zu Video- und Medienkunst.Seit 1980 kooperative Leitung der Medienwerkstatt Wien. Seit 1993 künstlerische Zusammenarbeit mit Manfred Oppermann. Mitglied der IG Bildende Kunst, Vereinigung bildender Künstler Wiener Secession, FLUSS - NÖ. Initiative für Foto- und Medienkunst. 2013 Österreichischer Kunstpreis für Video- und Medienkunst.
Bernhard Cella is interested in the economic and sculptural framework in which artists' books – highly informed objects in themselves – can be used as artistic materials. To this end, he conceptualized the 'Salon für Kunstbuch', a life-size model of a bookshop, in his studio in Vienna. Since 2007, more than 10.000 artists' books have accumulated and entered into unfamiliar vicinities and dialogues. Buying and selling these objects become an integral part of an original artistic practice.
www.cella.at http://collectingbooks.cella.at www.salon-fuer-kunstbuch.at
FILM ZEICHNEN 1 – 4, Prozesse des Schauens - Überlegungen in Bildern
Eine Künstlerbuch Serie in vier Bänden von Hanna Schimek