Freitag, 13. May 2011, 19h, Solution 196-213: United States of Palestine-Israel
A book presentation and conversation with Tal Adler, Osama Zatar and Joshua Simon.
Solution 196–213: United States of Palestine-Israel (edited by Joshua Simon), is an anthology of texts proposing a doable solution for the region. With contributors based in Ramallah and Tel Aviv-Jaffa, Beirut and Jerusalem, New-York and Bethlehem, Vienna and Berlin, Nazareth and Warsaw, the book offers eighteen solutions and ways to do them.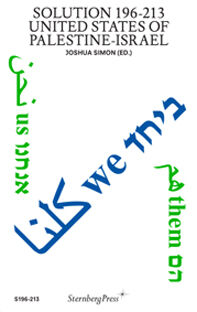 "Solution" is a tricky termespecially in relation to the ongoingnewspeak of the last two decades in Palestine-Israel. The idea is therefore to rethink the different antagonisms that structure our ways of resistance and compliance: to rethinkSemitismand 1948, rethink identity and territory, rethink resistance and memory, rethink democracy and state; rethink Zionism and decolonization, rethink refugee and property, rethink religion and solution. Mth contributions by Tal Adler/Osama Zatar, Asma Agbarieh-Zahalka, Maayan Amir/Ruti Sela, Ariella Azoulay, Yael Bartana/Sebastian Cichocki, Raji Bathish, Itzhak Benyamini, Sari Hanafi, Sand i Hilal/ Alessandro Petti/Eyal Weizman,Yazan Khalili, Ohad Meromi/Joshua Simon, Norma Musih, Ingo Niermann and Noam Yuran. Solution Series edited by Ingo Niermann. Design by Z.A.K.


Solution 196–213 United States of Palestine-Israel,
Solution Series edited by Ingo Niermann, Joshua Simon (Ed.) March 2011, English, 11.2 x 17.8 cm, 128 pages, softcover, € 15,50.-