Jeff Weber - An Attempt At A Personal Epistemology
Die Kunsthalle Leipzig war ein von Jeff Weber eingeleitetes Langzeitprojekt in Form eines Kunstraums (2012–2017), der den Rahmen für die Bilder setzte, die durch die Methode der Zusammenarbeit entstehen sollten. Indem er eng mit den eingeladenen Künstlern zusammenarbeitete und den Prozess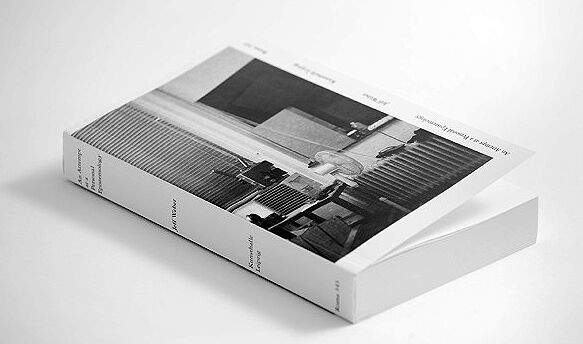 Gäste im Salon: Jeff Weber, Alexi Kukuljevic

Belvedere 21, Arsenalstr.1030 Wien
Mittwoch, 9. Oktober 2019, 19.00 Uhr
Die Kunsthalle Leipzig war ein von Jeff Weber eingeleitetes Langzeitprojekt in Form eines Kunstraums (2012–2017), der den Rahmen für die Bilder setzte, die durch die Methode der Zusammenarbeit entstehen sollten. Indem er eng mit den eingeladenen Künstlern zusammenarbeitete und den Prozess von Anfang bis Ende jedes Projekts fotografierte, wandte sich Webers Dokumentation insbesondere dem Kontext des Schaffens jedes der Künstler zu. Marie-France Rafael beschreibt dies als Transformation der Produktion eines Abbilds in einen Prozess "zu dem aber auch noch die Beteiligung des Betrachters notwendig ist." Die Stringenz mit der Weber die jeweilige Rolle des Künstlers, Kurators und Archivars anging, wurde in seinem Buch An Attempt at a Personal Epistemology (ROMA Publications, 2018) zusammengetragen.
The Kunsthalle Leipzig was initiated and run by Weber between 2012 and 2017 as a conceptual framework in the form of a project space and an expansion of his own practice towards the curatorial. The consistent, long-term documentation of the exhibitions and events taking place at Kunsthalle Leipzig became a conceptual work of art in itself. Marie-France Rafael describes it as "transforming the essence of photography as representation into an active process, where the participation of the invited artist is required to open up the image towards another image." Rather than an isolated object, the photographic image is enmeshed in and emerges as a nodal point within a complex of relations, and it is this set of relations that is crystallized in the image.
With contributions by Robert Beavers, Marie-France Rafael, Michael Baers.
Jeff Weber (geb. 1980) ist ein in Berlin ansässiger Künstler. Er erwarb sein Diplom (2010) von der Ecole nationale supérieure des arts visuels La Cambre in Brüssel. 2012 war er Stipendiat an der Jan van Eyck Akademie in Maastricht. Seine Arbeiten sind vielfach ausgestellt worden, namentlich im De Appel Art Center, Amsterdam; dem Casino – Forum d'Art Contemporain, Luxemburg; dem Roots and Culture Contemporary Art Center, Chicago; der Interfood-Vitrine, Aachen; dem Fotomuseum Winterthur und der Erna Hecey Gallery, Luxemburg. An der Kunsthalle Leipzig hat er 2012–2017 eine Vielzahl von Veranstaltungen, Vorträgen und Projekten organisiert. Sein Buch An Attempt at a Personal Epistemology, erschienen bei Roma Publications, Amsterdam wurde im KW Berlin Institute for Contemporary Art vorgestellt.
Jeff Weber (b. 1980) is based in Berlin. He holds a diploma (2010) from l'École nationale supérieure des arts visuels La Cambre in Brussels. In 2012, he was a resident at Jan van Eyck Academie in Maastricht. He has been attributed the Edward Steichen Award in 2015 and the Bert Theis Stipend in 2017. His work has been exhibited widely, most notably at De Appel, Amsterdam; Casino Luxembourg – Forum d'art contemporain; Roots & Culture Contemporary Art Center, Chicago; Interfood-Vitrine, Aachen; Fotomuseum Winterthur; and Erna Hecey Gallery, Luxembourg. He has organized and curated numerous events, lectures, and projects at Kunsthalle Leipzig between 2014 and 2017. His book An Attempt at a Personal Epistemology, published by Roma Publications, Amsterdam, was presented at KW Institute for Contemporary Art in Berlin, Mudam – Musée d'Art Moderne Grand-Duc Jean in Luxembourg, and Structura Gallery in Sofia.

Alexi Kukuljevic ist Künstler und Philosoph und lebt in Wien. Er ist Autor von Liquidation World: On the Art of Living Absently, MIT Press, 2017. Seine Arbeiten wurden in Institutionen wie dem Palais de Tokyo, Paris, dem ICA in Philadelphia und dem Museum für zeitgenössische Kunst in Ljubljana ausgestellt. Derzeit arbeitet er an einem Buch mit dem Titel Like Hell It Is, das sich mit dem Verhältnis zwischen Komödie und Horror befasst. Er ist Universitätsassistent an der Abteilung für Kunsttheorie der Universität für angewandte Kunst Wien.
Alexi Kukuljevic is an artist and a philosopher based in Vienna. He is the author of Liquidation World: On the Art of Living Absently published by MIT Press. His art work has been exhibited at institutions such as the Palais de Tokyo, Paris, the ICA in Philadelphia, and the Museum of Contemporary Art in Ljubljana. He is currently working on a book entitled Like Hell It Is addressing the vertiginous intersection between comedy and horror, and is a University assistant in the department of art theory at the University of Applied Arts Vienna.
Bernhard Cella is interested in the economic and sculptural framework in which artists' books – highly informed objects in themselves – can be used as artistic materials. To this end, he conceptualized the 'Salon für Kunstbuch', a life-size model of a bookshop, in his studio in Vienna. Since 2007, more than 12.000 artists' books have accumulated and entered into unfamiliar vicinities and dialogues. Buying and selling these objects become an integral part of an original artistic practice. www.salon-fuer-kunstbuch.at, www.cella.at.
Jeff Weber - An Attempt At A Personal Epistemology | Kunsthalle Leipzig
Michael Bears E.a.
Publisher: Roma Publications
ISBN 9789492811387
522 p, ills colour & bw,
11 x 19 cm, pb, English
€ 27.50
bestellen