Negotium Kurt Ryslavy
'Negotium' recalls West's 'Otium' and represents Ryslavy's 'Verkaufswerk' number 23, 47 and 48. It is an artist's book and simultaneously a 'sales catalogue' of three Franz West works. The main interest is on number 23, 'Immobile Adaptive with Children's Sunglasses (in police office green)' by Franz West. The work was signed by West in 1982 and dated "74 or 75" on the back. It consists of a light green pocket object of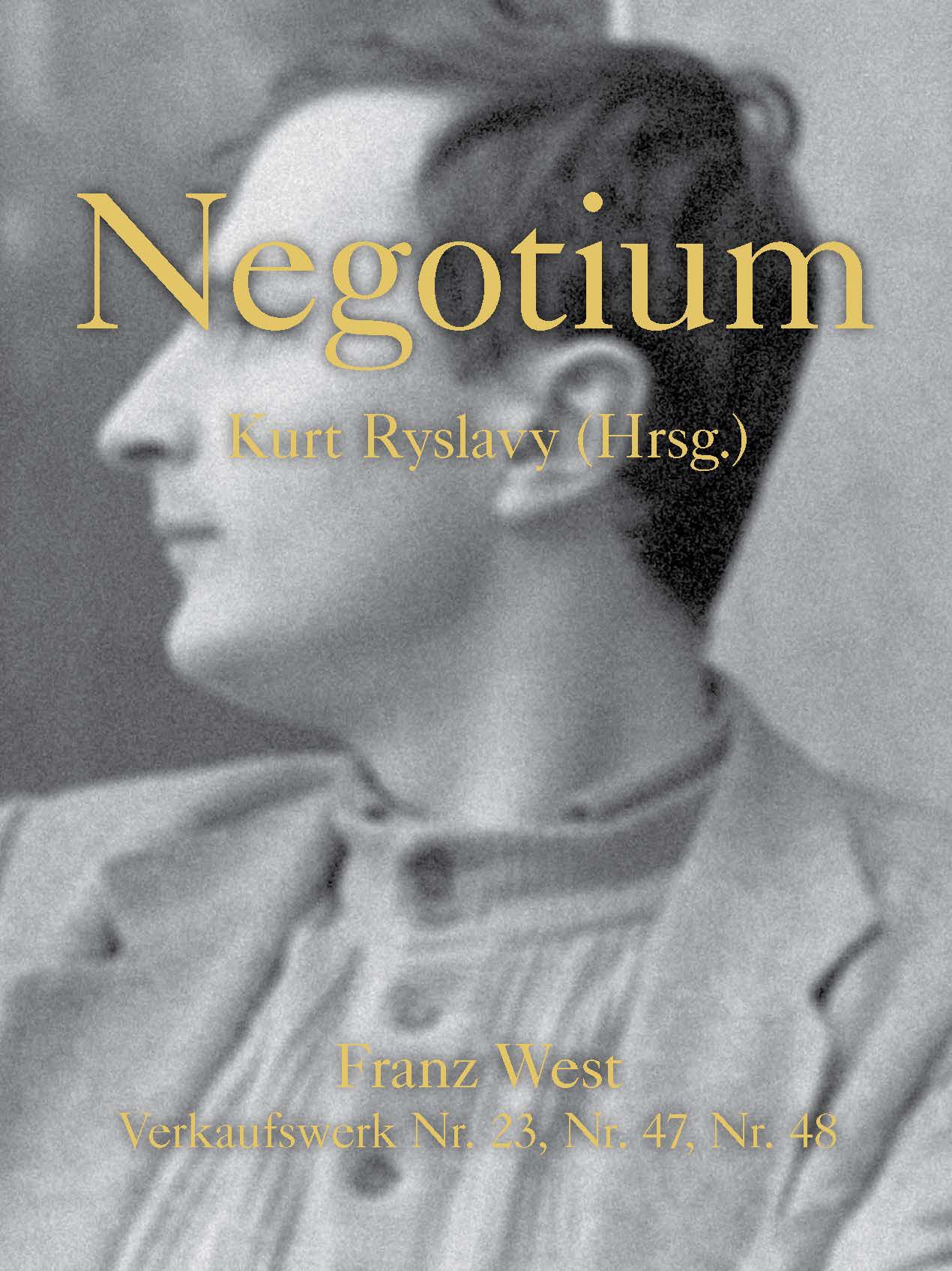 NegotiumKurt Ryslavy

Mittwoch, 3. Oktober 2018, 19.00 Uhr

Gäste im Salon: Renée Gadsden, Kurt Ryslavy und Elfriede Czurda

Salon für Kunstbuch Belvedere21
Arsenalstraße 11030 Wien

Negotium ist ein Künstlerbuch und gleichzeitig ein "Verkaufskatalog" von drei Werken von Franz West, Nummer 23, 47 und 48. Das Hauptinteresse gilt der Nummer 23, "Immobiles Paßstück mit Kindersonnenbrille (in Polizeistubengrün)". Das Werk wurde 1982 von West signiert und auf der Rückseite mit "74 oder 75" datiert. Es besteht aus einem hellgrünen Taschenobjekt aus Pressspan und Karton, das ursprünglich an die Wand genagelt wurde. In der Tasche befinden sich eine dunkelgrüne Plastikmappe mit 20 Franz-West-Collagen und eine Kindersonnenbrille, die beim Betrachten der Collagen getragen werden soll.
'Negotium' recalls West's 'Otium' and represents Ryslavy's 'Verkaufswerk' number 23, 47 and 48. It is an artist's book and simultaneously a 'sales catalogue' of three Franz West works. The main interest is on number 23, 'Immobile Adaptive with Children's Sunglasses (in police office green)' by Franz West. The work was signed by West in 1982 and dated "74 or 75" on the back. It consists of a light green pocket object of pressboard and cardboard, originally nailed to the wall. In the pocket is a dark green plastic folder which contains 20 Franz West collages, and children's sunglasses with dark (plastic) lenses that are supposed to be worn while looking at the collages.

Published on the occasion of the Franz West exhibition showing 12 Sep – 10 Dec 2018, Centre Pompidou Paris and moving to Tate Modern, London in 2019.
Edition 750 copies numbered, of which 50 are editions signed.
English and German text.
Kurt Ryslavy, *1961, studierte von 1979 bis 1984 an der Universität Wien Philosophie & Arabistik und von 1981 bis 1985 an der Hochschule für Angewandte Kunst Wien bei Oswald Oberhuber. 1993 Gastdozent Marmara Universität Istanbul, 2009 Gastdozent Hochschule für Angewandte Kunst Wien, 2010 Gastdozent Kunsthochschule Sint Lukas Gent, 2014 Gastdozent Academie des Beaux Art Bruxelles und 2015 Gastdozent Hochschule KASK Gent.
Solo Shows: Vincent Van Gogh Huis Zundert 2018, établissement d'en face Brussels 2017, CC De Garage Malines 2016, White Out Studio Knokke 2015, (les halles) Porrentruy 2014, Kim Kim Gallery Seoul 2013, Emily Harvey Foundation New York 2012, BOZAR Bruxelles 2012, MAK Wien 2011, Musée de Mariemont 2009, Le Commissariat Paris 2009, Museum Admont 2008, CCNOA Bruxelles 2007, Neue Galerie Graz 2001, Kunsthalle Krems 2000, Kunsthalle Lophem 1999, Palais des Beaux Arts 1997, Wiener Secession 1993, Herning Kunstmuseum 1990.
Group Shows: ARTZUID Amsterdam, Centre Wallonie Bruxelles Paris 2017, mumok Wien 2016, Kunsthaus Zürich 2015, Herbert Foundation Gent 2014, Neue Galerie Graz am Universalmuseum Joanneum 2013, CCS Strombeek 2012, Kunsthaus Graz 2013, Maison Grégoire Bruxelles 2011, CCS Strombeek 2009, ETS d'ENFACE Bruxelles 2009, Sparwasser HQ Berlin 2008, mandrake Los Angeles 2008, BOZAR Bruxelles 2008, Garage Mechelen 2008, MUMOK Wien 2007, LandesMuseum NiederÖsterreich St. Pölten 2007, Kunsteneres Huis Oslo 2007, Ikob Eupen 2004, Museum Admont 2003, Tour & Taxis Bruxelles 2001, Neue Galerie Graz 1999, MDD Deurle 1998, Palais des Beaux Arts 1998, Skulptur Projekte Münster 1997, Von der Heydt Museum Wuppertal 1987, Kunsthalle Bremen 1987.
Dr. Renée Gadsden ist Autorin und Lehrende, die auf über 45 Publikationen verweisen kann - von kunsthistorischen und kulturhistorischen Essays und Büchern über Interviews und Übersetzungen zu Lyrik, Kinderbüchern und Pamphleten.
Jahrelang in der österreichischen Erwachsenenbildung und an verschiedenen österreichischen Universitäten tätig, ist sie Mitbegründerin des Instituts für Sprachkunst an der Universität für Angewandte Kunst Wien, dem österreichweit ersten Programm für kreatives Schreiben mit akademischem Abschluss.
Als Kunsthistorikerin hat sie über 50 Katalogtexte, Bücher und andere Texte verfasst. Dr. Renée Gadsden hat internationale Ausstellungen in Galerien, Museen und private spaces weltweit eröffnet und ist bei allen Arten von Veranstaltungen eine begehrte Sprecherin.
Ihre Teilnahme an über 30 internationalen Symposien, Konferenzen und Jurien in ihren Fachgebieten, kreatives und wissenschaftliches Schreiben sowie Kunst- und Kulturgeschichte, ist von ebenso wesentlicher Bedeutung für ihre Aktivitäten wie ihre Arbeit mit Film, Performance und Musik.

Bernhard Cella is interested in the economic and sculptural framework in which artists' books – highly informed objects in themselves – can be used as artistic materials. To this end, he conceptualized the 'Salon für Kunstbuch', a life-size model of a bookshop, in his studio in Vienna. Since 2007, more than 12.000 artists' books have accumulated and entered into unfamiliar vicinities and dialogues. Buying and selling these objects become an integral part of an original artistic practice. www.salon-fuer-kunstbuch.at, www.cella.at

Kurt Ryslavy (Hrsg./Ed.): Negotium, Franz West Verkaufswerk Nr. 23, Nr. 47, Nr. 48.
Texts: Elfriede Czurda, Janc Szenior, Renée Gadsden; D/E.
bestellen: € 39,80.-