Thomas Freiler apparate arbeiten/ CAMERAS WORK
Buchpräsentation und Werkstattgespräch, Mittwoch, 24. Oktober 2012, 18.30 Uhr
Ein Fotobuch als Versuchsanordnung, in dem das Medium über sich selbst Auskunft gibt und als bibliophiles Objekt, als Sammlung und Argumentation Fotografie befragt. Das Buch nähert sich der Fotografie einerseits von der Seite ihrer naturwissenschaftlichen Voraussetzungen und apparativen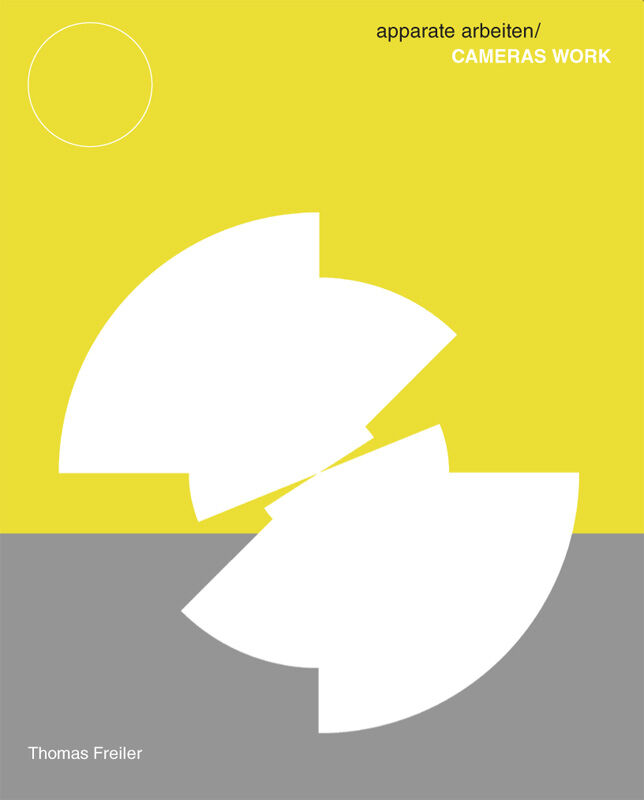 Bernhard Cella im Gespräch mit Thomas Freiler

apparate arbeiten/Cameras Work
Ein Fotobuch als Versuchsanordnung, in dem das Medium über sich selbst Auskunft gibt und als bibliophiles Objekt, als Sammlung und Argumentation Fotografie befragt. Das Buch nähert sich der Fotografie einerseits von der Seite ihrer naturwissenschaftlichen Voraussetzungen und apparativen Konstruktionen und andererseits hinsichtlich ihres Gebrauchs und der Kontexte.
Bildanordnungen und Gegenüberstellungen thematisieren fotografische Grundparameter bzw. fotografische Repräsentation im analogen als auch digitalen Bereich, aber auch Bedingungen und Auswirkungen von Entwicklungen und Standardisierungen der fotografischen Technologien auf unsere imaginären Bildwelten, gespeist von den Bildern unserer vielfältigen fotografischen Apparaturen.
A photo book as an experimental setup in which the medium informs itself and becomes a bibliophile object that explores photography as a collection and argumentation. The book is an examination of photography from the vantage point of its scientific preconditions and its apparatus-based structures on the one hand, and its uses and contexts on the other.
Arrangements and comparisons of photographs explore the basic parameters of photography and photographic representation in both the analogue and the digital field; but also the conditions and impact of developments and standardisation of photographic technologies on the images of our imaginations, nourished by the images of our many different types of photographic apparatus.

Thomas Freiler, geboren 1962, ist bildender Künstler und Fotograf. Neben seinen künstlerischen Projekten leitet er seit 2006 das Labor für Fotografie und lehrt unter anderem an der Akademie der bildenden Künste Wien.
Thomas Freiler, born 1962, is an artist and photographer based in Vienna. Additional to his projects he reads lectures on photography and history of photography and is head of the photographic laboratory at the Academy of Fine Arts Vienna since 2006.

Bernhard Cella ist Initiator des Salon für Kunstbuch im 21er Haus. Er führt diesen als ein künstlerisches Label, unter dem verschiedenste Produkte hergestellt werden, eine Skulptur, in der Menschen u.a. zum Diskurs zusammenkommen und herrschende Organisationsformen erprobt werden. Bernhard Cella lebt in Wien und studierte freie Kunst und Bühnenbild an der Akademie der bildenden Künste Wien, an der Hochschule für bildende Künste Hamburg und an der Kunstuniversität Linz. Zuletzt vorgestellte Arbeiten waren in 2012:" and lerning english has no use", Le Bal/Paris, "collecting books", NYABF/PS1 MoMA NY, Missing Books / fiac Paris, "Alles vor Ort nicht vorab", Video/Tischgespräck mit Franz West / 21er Haus, O.T./ open space, ART Cologne, NO-ISBN/peek / FWF projekt 2012-2014. www.cella.at, www.salon-fuer-kunstbuch.at www.neokuratin.com

apparate arbeiten, CAMERAS WORK,Thomas Freiler, Texte by Ruth Horak, Thomas Freiler, D/E, 2012, fadengebunden, Softcover, Format: 26,7 x 21,6 cm, 160 Seiten, zahlreiche Farb- und Schwarzweiß-Abbildungen, Auflage: 800, ISBN: 978-3-902675-51-4, Preis: 39 Euro