Ulises Carrión
Die Neue Kunst des Büchermachens
Ulises Carrión (1941-1989) war eine der vielseitigsten Persönlichkeiten der internationalen Post-1960er-Avantgarde. Aus der Perspektive des ehemaligen Schriftstellers und Linguisten analysierte Carriòn schon lange vor dem visual turn bzw. pictoral turn die Sprache und Logik der Bilder. Dabei ging es ihm um die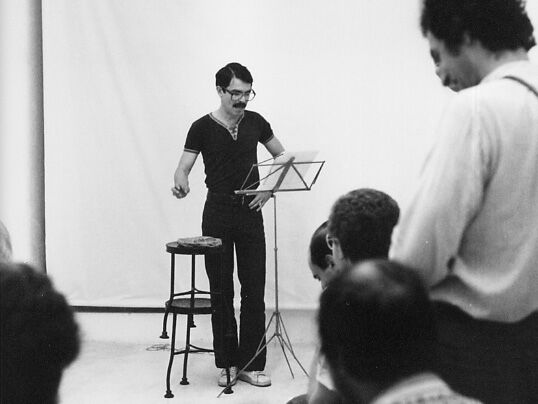 Ulises Carrión
Using Culture
Die Neue Kunst des Büchermachens
Mittwoch, 10. Juni 2015, 19.00 Uhr

Gast im Salon:Maike Aden
Dear Reader. Don´t read.
The old art takes no heed of reading.
The new art creates specific reading conditions.
The space is the music of the unsung poetry.
A book is a volume in the space.
Space exists outside subjectivity.
Ulises Carrión (1941-1989) war eine der vielseitigsten Persönlichkeiten der internationalen Post-1960er-Avantgarde. Aus der Perspektive des ehemaligen Schriftstellers und Linguisten analysierte Carriòn schon lange vor dem visual turn bzw. pictoral turn die Sprache und Logik der Bilder. Dabei ging es ihm um die Strukturen und Regeln kultureller Bedeutungsherstellung, die er in seinen Schriften mit sensiblem und kulturkritischem Gespür offenzulegen und zu durchkreuzen verstand. Sein Name scheint derzeit ebenso berühmt wie unbekannt zu sein, von vielen schon mit einem Ehrenplatz in der Ruhmeshalle mythologisierter Künstlergestalten versehen wird er woanders noch als Insidertipp gehandelt.

Parallel zu einer Entwicklung der letzten Jahre, die das Genre des Künstlerbuchs zu einem angesagten Zeitgeistphänomen avancieren ließ, erfährt nun auch Ulises Carrión eine neue Wertschätzung. Die anhaltende und vielfältige Rezeption seines Manifests "Die neue Kunst des Büchermachens" machte sein Werk zur zentralen Referenz für die konzeptionelle Definition des Künstlerbuchs.

Anhand einer Auswahl an Künstlerpublikationen, Filmen und Textdokumenten stellt Maike Aden die vielfältigen Aspekte und Kontexte der "kulturellen Strategien" Ulises Carrións miteinander in Beziehung.
Maike Aden: Nach einer vergleichenden Untersuchung zu den Werken von John Cage und Pierre Boulez und der kunstwissenschafltichen Promotion zu Bas Jan Ader hat Maike Aden über das Genre des Künstlerbuchs in den 1960er-80er Jahren geforscht. Dazu gehörte die Mitarbeit an einem Klassifikationssystem für Künstlerbücher am Museum Reina Sofia in Madrid, die Erschließung eines Archivs für Künstlerpublikationen in Belgien sowie die Mitarbeit an verschiedenen Museumsausstellungen. Aden unterrichtet an verschiedenen europäischen Universitäten, sie lebt und arbeitet in Brüssel und Paris.
Bernhard Cella is interested in the economic and sculptural framework in which artists' books – highly informed objects in themselves – can be used as artistic materials. To this end, he conceptualized the 'Salon für Kunstbuch', a life-size model of a bookshop, in his studio in Vienna. Since 2007, more than 10.000 artists' books have accumulated and entered into unfamiliar vicinities and dialogues. Buying and selling these objects become an integral part of an original artistic practice.
www.cella.at http://collectingbooks.cella.at www.salon-fuer-kunstbuch.at
Ulises Carrión, Performance, Amsterdam 1981