Yellow books April 2012
Salon für Kunstbuch empfiehlt die Top 10 seiner gelben Buchcover.
Weitere Publikationen zu derselben Farbe finden sie im Salon für Kunstbuch und auf der Webseite unter Yellow Books. Alle Publikationen sind derzeit käuflich zu erwerben.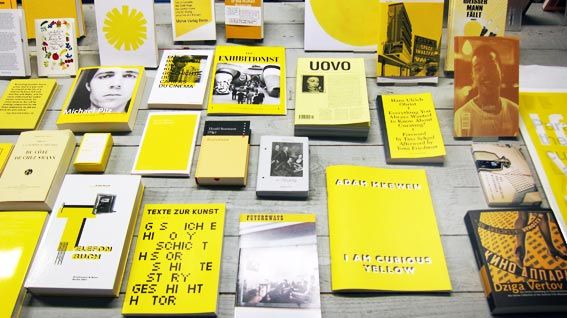 Michael Pilz

Olaf Möller, Michael Omasta (Hg.)
Auge Kamera Herz
FilmmuseumSynemaPublikationen Band 10, 2008
This richly illustrated book is the first monograph about Michael Pilz. It includes several essays dealing with his work, an extensive conversation, selected texts and film treatments written by him, and a complete annotated filmography.
Born in a small town in Lower Austria, Michael Pilz has realized over 100 films since the 1960s. His breakthrough came with a veritable massif central of documentary cinema: Heaven and Earth (1979-82), an epic work about the Styrian mountain village of St. Anna. Since then, he has been a "solitary man", crossing the borders between film forms just as easily as those between art, cinema, life.
The Exhibitionist

Jens Hoffmann (Hg.)
Journal on Exhibition Making
The Exhibitionist is a journal focusing solely on the practice of exhibition making. Its objectives are to create a wider platform for the discussion of curatorial concerns, encourage a diversification of curatorial models, and actively contribute to the formation of a theory of curating.
This issue of The Exhibitionist enacts something like a threshold experience, concerned as it is with the issue of art's publics , a concern that manifests itself throughout as a tension among arguments about the efficacy of the exhibition format. (Tara McDowell)

Sensible Sammlungen

Margit Berner, Anette Hoffmann, Britta Lange
Aus dem anthropologischen Depot
Fundus Band 210
»Sensible Objekte« in musealen Sammlungen werden seit den achtziger Jahren als »menschliche Überreste« und »Gegenstände von religiöser Bedeutung« definiert. Dabei sind nicht nur die Gegenstände selbst »sensibel«, sondern auch und vor allem die Umstände ihrer Herstellung und Beschaffung. Im 19. und frühen 20. Jahrhundert reisten europäische Forscher in die kolonialisierten Teile der Welt. Sie sammelten Anthropologica – Knochen, Haarproben und Präparate – und Ethnografica – Gegenstände aus der materiellen Kultur – von Angehörigen der dort lebenden sogenannten »aussterbenden Völker« und brachten sie in wissenschaftliche Sammlungen und Museen in Europa.


Urban Pioneers
Senatsverwaltung für Stadtentwicklung (Ed.)
Berlin: Stadtentwicklung durch Zwischennutzung
Jovis, 2007
Skateparks in aufgelassenen Industriearealen, Ponyhaltung auf dem Mauerstreifen, Flohmärkte in ungenutzten Lagerhallen, Musik- und Modelabels in leer stehenden Ladenlokalen oder Kletterparcours in Baulücken – wie in kaum einer anderen europäischen Metropole bereichern temporäre Nutzungen das Stadtbild Berlins. Für die Stadtentwicklung spielen Zwischennutzungen zunehmend eine strategische Rolle. Dort, wo auf brachliegenden Flächen die Umsetzung klassischer Stadtplanung an ihre Grenzen stößt, entstehen durch die Raumpioniere neue Entwicklungsperspektiven.